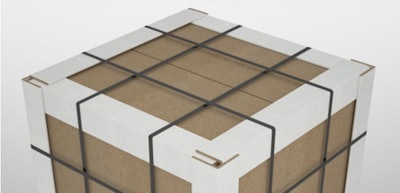 IPG® ANGLEGUARD™ brand edge protectors are constructed of multiple layers of recycled fiberboard glued together with a top sheet that fully overlaps around both sides of the board. They are designed to protect the edges and corners of unitized pallet loads from crushing, scratching and strapping damage. In addition, ANGLEGUARD™ edge protectors improve safety by providing additional stabilization to wrapped or strapped loads and guard against loads shifting while goods are in transit. They also increase vertical stacking strength during transit and product storage.
Avoid costly damage to the contents inside individual cartons during shipping and handling by placing edge protectors against the inside corners of a box to increase internal carton strength.
ANGLEGUARD™ brand strap protectors are shorter length boards that specifically target edge crush damage created by the tension applied by steel, poly and polyester strapping.
Both ANGLEGUARD™ edge and strap protectors are fully recyclable, come pre-cut in a variety of common lengths for shipping standard skid or package sizes, and are available in three caliper strengths (.120", .160" and .225"). They are designed with more paper fiber in the bend to provide the extra strength and load stability to ensure superior edge protection. All ANGLEGUARD™ brand protectors are fully wrapped in white for a cleaner appearance that also helps prevent delamination and papercuts during handling. Full overlap also avoids the hassle of receiving boards stuck together due to glue seepage in the manufacturing process.