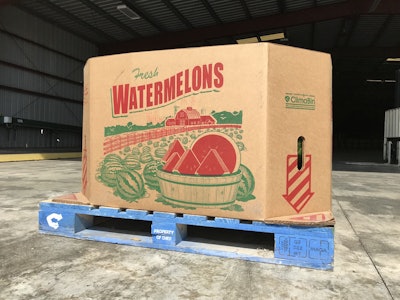 Brooklyn, NY-based Melon 1 considers itself one of the oldest and largest watermelon shippers in the U.S. It recently announced that it is expanding its partnership with CHEP to include on-site pallet storage and international shipments. Both programs are designed to help fulfill watermelon shipments and support a circular supply chain.
The companies have a longstanding partnership of nearly 20 years. Rich Chastain, Co-Owner, Melon 1, explains, "We use CHEP almost exclusively for our domestic shipping, so we know what a difference shared [or pooled] pallets make when it comes to streamlining our supply chain. The financial and environmental savings are terrific. CHEP removes the need for disposable pallets and that's a win for everybody."
Since CHEP pooled pallets are not disposed, they sometimes need to be stored—and now storage creates additional value. Since last year, Melon 1 has stored CHEP pallets at nine of its 20 facilities. The on-site storage ensures Melon 1 has pallets available and accessible at harvest time.
An international shipments program, launched in January 2018, enables Melon 1 to move watermelons from Central America to the U.S. on CHEP pallets. The program helps Melon 1 continue to provide the fresh watermelons retailers need to keep bins full beyond the peak harvest season in the U.S.
"The work we're doing with Melon 1 is a great example of how collaboration allows us to do even more to solve shared challenges, from taking out transport miles to reducing waste," notes Laura Nador, President, CHEP North America. "Expanding the partnership expands our ability to cut carbon emissions and costs at the same time."
According to the two companies, Melon's share and reuse of CHEP pallets has realized the following key benefits since 2009:
• Reduced nearly 1.3 million lb of carbon emissions
• Kept nearly 1.7 million lb of solid waste out of landfills
Companies in this article