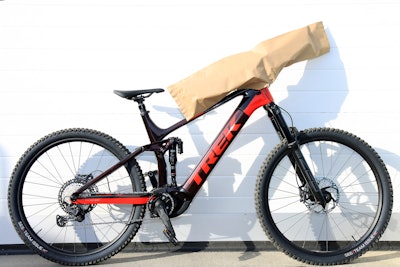 Diamant has been manufacturing elegant city bicycles in Germany since the late 19th century when a pair of craft-minded brothers, Friedrich and Wilhelm Nevoigt, who produced sinkers for knitting machines, turned their attention to two-wheeled transportation. After 100-plus years in business, the company, now owned by Trek Bicycle Corp., continues to develop new technologies that make city riding more accessible—and sustainable—for cyclists throughout Europe.
Says the company, "We believe the bicycle is a simple solution to many of the world's most complex problems—from climate change to traffic congestion, equitable mobility, and more. That's why we're committed to supporting organizations and causes that use bikes as a force of good for our planet and every person on it."
---
---
Among its sustainable strategies, Diamant is a founding partner of advocacy group PeopleForBikes, is a partner in World Bicycle Relief, and runs a bike-share system, among other activities. Recently, the company turned its attention to the sustainability of its bicycle packaging, significantly reducing its use of plastic in the process.
Working with Mondi, Diamant switched from the plastic bubble wrap it was using to wrap the handlebars of its Trek and Diamant brand bicycles during transportation to Mondi's recyclable Protector Bags. The flexible bags are made of multiple layers of renewable kraft paper and have been designed to wrap bulky, sensitive, or irregularly shaped items. With this change from plastic to paper, Diamant has reduced its use of plastic by 16 metric tons per year—around 85% of its previous consumption—and has seen a notable savings in its logistics and transportation costs as well.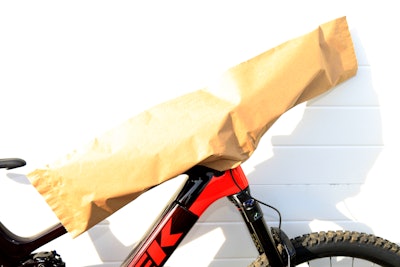 Among the advantages of the Protector Bags listed by Mondi is that they're easy to use: The packaging is premade and features a tailored adhesive closure strip developed specifically for the bicycle industry. Mondi adds that multiple layers of kraft paper ensure the bags are strong, flexible, and puncture-proof, and a softer, friction-resistant interior glaze helps protect the bikes during storage and transport. Due to the air permeability of paper, the bags are also breathable—a valuable feature for bicycle packaging, as handlebar grips made of rubber can emit moisture or gas. And, because they're made from renewable materials, the bags are also 100% curbside recyclable.
In terms of storage and logistics, because the packaging is delivered flat, more bags can be carried on a pallet, providing more cost-efficient stacking compared to plastic bubble-wrap reels, which transport excess air. Transportation distances have also been reduced, as Mondi produces the paper bags at its Trebsen plant in Germany, which is only an hour from Diamant's factory. Diamant's previous bubble-wrap alternative was sourced abroad.
---
---
Says Geoffrey Ziegahn, Senior Engineer at Diamant, "Our development team worked very closely with Mondi to create these uniquely tailored bags, which will provide increased protection for the handlebars of all mountain and trekking bikes of our brands Trek and Diamant during transportation. This is a major step towards our sustainability goals: We aim to only use recyclable packaging by the end of this year and replace all plastic and bubble wrap with paper-based solutions. Mondi's careful and thorough approach to the challenge has demonstrated how we can achieve this—we are saving transportation costs and storage space and are contributing to a better world by making this big change."
Companies in this article