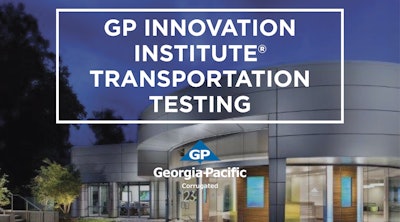 Located outside of Atlanta, Georgia-Pacific Corrugated's Innovation Institute® is a collaborative environment dedicated to helping customers build their brand, improve their operations, and optimize their packaging, and it was the topic of the company's PACK EXPO Connects demo on Tuesday. As the company's video shared, the Innovation Institute offers state-of-the-art packaging design and testing, including rapid prototyping and full-range preconditioning of materials prior to testing. In addition, a simulated retail space allows customers to see finished product on the shelf.
The facility also includes Georgia-Pacific's Transportation Testing Lab, where the company says it puts customers' packaging "through the gauntlet." Said the demo narrator, "Simulating different types of supply chain events to make sure our packaging holds up, this laboratory is maintained at TAPPI test conditions and has the capability to simulate all the forces encountered by either individual packages, or full pallets of product during handling, transportation, and warehousing."
Tests performed at the lab include the following:
· The 50,000lb Compression Test is used to understand the top-to-bottom compression strength of full pallets of product, large bulk bins, or very high compression-strength packing. It is one of the primary tests in many of the ISTA transportation test protocols.
· The Horizontal Impact Test System, otherwise known as the HITS machine, simulates what happens in the event of a truck driver slamming on the brakes, which is called a deceleration event. This event is the primary cause of damage through distribution, Georgia-Pacific explains.
· Rotational Drop Tests are required for all ISTA full-pallet transportation testing. There are two types of rotational drops: rotational edge drop and rotational flat drop.
· The Box Compression Tester, or BCT, is utilized to understand the top-to-bottom compression strength of an individual box, or a stack of boxes. Stacks of boxes typically behave differently than individual boxes in a BCT. This test is also utilized in the design phase of corrugated packaging.
· The Precision Drop Test is designed to drop a packaged product in a very specific orientation, based upon established transportation protocols. It's used to verify that a packaged product can survive the rigors of supply chain events that it's likely to encounter throughout its lifecycle. This test is used in all of the individual parcel shipment test procedures, including ISTA 3A, ISTA 6-FedEx and ISTA 6-Amazon procedures. It's also a requirement for Amazon certification testing.
· A Hydraulic Vertical Vibration Table can replicate the vertical vibration forces that occur when shipping product on a sea container, a rail car, a truck, or even an airplane. This allows designers to set design requirements specific to the expected forces and optimize the packaging system upfront.
To view demos from Georgia-Pacific (available through March 31, 2021) and to add the company to your MyConnects Planner, click here.