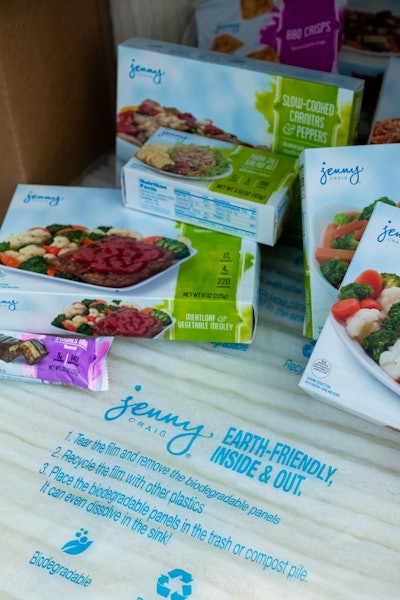 In recognition of modern consumers' growing desire for convenient, customizable, and sustainable products, delivery, and services, Jenny Craig has rolled out its Jenny Craig Cares program "for more earth-friendly, personalized, and convenient weight loss," the company says. The Carlsbad, CA-based company operates approximately 600 company-owned and franchised centers that offer weight loss education and support, as well as nutritionally-balanced meals and snacks, delivered to members' homes or picked up from the centers. The new Jenny Craig Cares program enables members to receive more frequent shipments of food in smaller packages that include compostable insulation.
Prior to Jenny Craig Cares, members ordered their food in two-week shipments in large expanded polystyrene containers. Says Lindsay Ostenson, Brand and Products for Jenny Craig, "With the rollout of the new packaging, we added the option for members to select one-week shipments, understanding many individuals may not have the space to accommodate two weeks of food in their freezer. The new one-week delivery option reduces the amount of storage needed and waste produced with each order… . The one-week meal delivery packaging is 30-percent smaller with the use of KTM Industries' Green Cell Foam insulation that is 100-percent compostable and water soluble."
Before selecting Green Cell Foam, Jenny Craig considered a variety of other packaging options, but ultimately ended up going with the material because "it is the most eco-friendly packaging available on the market," says Ostenson. Green Cell Foam is made from organic, non-GMO, U.S.-grown corn and gives consumers a number of environmentally safe disposal options. Among them, Green Cell Foam:
Biodegrades in 60 days or less in a composting environment
Dissolves in water, allowing small pieces to be places in the sink that safely "melt" down the drain
Can be placed in a bucket of water to sit overnight, creating a plant food mixture
Burns cleanly in fireplaces, firepits, and power plants, can be used to start a barbecue
The Green Cell Panels, which are manually inserted into Jenny Craig's recyclable corrugated shippers during packout, were custom-designed by KTM to meet the company's requirements, including the amount of time a shipment needs to remain cold. Jenny Craig uses the Green Cell Foam Plus product, which takes three-panel sections of Green Cell Foam and envelops them in a recyclable, polyethylene film to provide a barrier against moisture and humidity. Consumers are advised of disposal options through instructions on the packaging as well as an additional insert.
Although 30% smaller than the former Jenny Craig shipper, the new box provides the same number of food items: seven days' worth of breakfast, lunch, dinner, and snack items "that require minimal prep or planning time," according to the company. From a product side, Jenny Craig Cares also offers new personalized menu options, such as low-sugar, meatless, and those specially formulated for women and men.
According to Ostenson, the reduced size of the boxes will help Jenny Craig save 770 trees/year.
Companies in this article