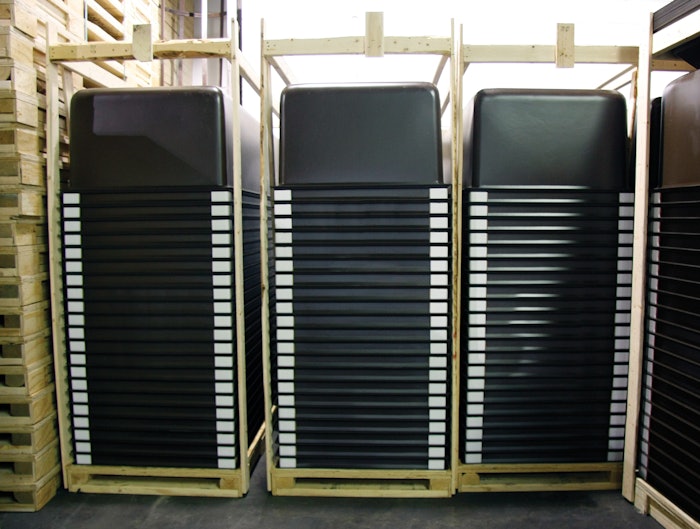 Indiana Vac-Form (IVF) is a supplier of thermoformed products, including burial vault liners, based in Warsaw, IN. In 2013, business for the company was going well. Sales of its burial vault liners were growing as the company tapped into new markets and customers across the country. But as its business grew, shipping distances increased, and logistics challenges like cross-docking became unavoidable. The increased mileage and product handling put new stresses on the corrugated packaging IVF was using, and consequently, it was not holding up well. If the company was to continue the momentum it was gaining, it was going to have to make some changes.
In December 2013, IVF replaced its corrugated packaging with recyclable paperboard edge protectors from Laminations, a part of Great Northern Corp. Since then, IVF has enhanced the integrity of its packaging, has saved on shipping and packaging expenses, and has lowered its material and labor costs.
Solution adapted for new use
IVF's thermoformed burial vault liners are part of a multicomponent system used for burial: casket, liner, and vault. When caskets are lowered into the ground, they get placed inside a burial vault, typically made of concrete. A burial vault is necessary to protect the casket from being crushed from the weight of the dirt over it and the equipment used in the maintenance of the cemetery property. However, because concrete is porous, a plastic vault liner is often placed inside the burial vault to keep moisture away from the casket. The liner also helps protect the environment by containing the vault contents.
For years IVF shipped its liners in stacks of 20, each one nested inside the other. They used pieces of corrugated material in the corners of the liners to keep them from settling too deep inside each other and creating a suction.
"As we began shipping our liners farther and farther, we became aware that our packaging was not up to the task of handling the harsh shipping environment created by the extra miles," says Greg Wood, co-owner of IVF. "That, coupled with an increase in handling, caused more stress on the corrugated and resulted in the liners settling together, making it difficult to pull them apart."
Wood's first thought was to copy his competitors and place injection-molded plastic spacers between the rims of the liners. While he knew this would resolve the situation, he felt the cost of the plastic spacers was too high and something he could not justify passing along to his customers if a more cost-effective solution could be found.
So he contacted Account Representative Teresa Sideris of packaging supplier Ship-Pac to help find a better solution. Sideris, in turn, called Laminations Account Manager Suzanne von Valtier, with whom she had worked in the past. Laminations is best known for its recyclable paperboard edge protection products such as VBoard®, designed for palletized loads. The company also offers a range of other protective packaging products.
"Suzanne and Teresa were great to work with," says Wood. "They came ready to assess our situation. They listened carefully. They understood our needs and our customers' needs. And in the end, they offered several ideas. I think a few of them would have worked, but Laminations' VGuard was the easiest solution to implement and appeared to solve the problem the best."
Interestingly, this was not the type of application VGuard was designed for. It was initially designed to provide targeted edge protection from the damage caused by strapping during the shipping and storage of palletized loads. Manufactured from 100% recycled fiber, with about 80% coming from post-consumer waste and 20% from pre-consumer waste, VGuard is made by laminating the recycled paperboard into a rigid right-angle shape.
"I took the problem back to Todd Hainer, our Manager of New Business Development, and together we realized we could use VGuard to solve their situation," says von Valtier. "VGuard was designed to protect palletized loads from the pressure of strapping, but Todd recognized we could place it under the lip of the overturned liner. It's strong enough to withstand the weight of the other liners, so it's working out great."
Problems eliminated
Wood says he couldn't be more pleased with the edge protector solution. Not only has it eliminated all the shipping and storage problems, but it also has helped IVF save on shipping and packaging expenses. Previously they could stack only 20 liners per skid. With the VGuard spacers, they are safely stacking 22 liners, providing a savings of 6.25%.
"The VGuard is so strong and durable we're able to put two more liners on the stack without fear of them leaning or toppling over," says Wood. "The appearance of a fully stacked skid is vastly improved."
Wood says another benefit is that his team previously also had to build an elaborate wood frame around each palletized stack to ensure its stability. While a frame is still being used with the VGuard spacers, it doesn't need to be nearly as elaborate, resulting in lower material and labor costs.
"I am extremely pleased with the outcome," says Wood. "So pleased, in fact, I'm looking to see if there are other products of theirs we can use. Since we started using Laminations' VGuard in December, we haven't had a single issue with the packaging for our liners. They're reaching our customers in the same quality condition they left our plant in."
Companies in this article