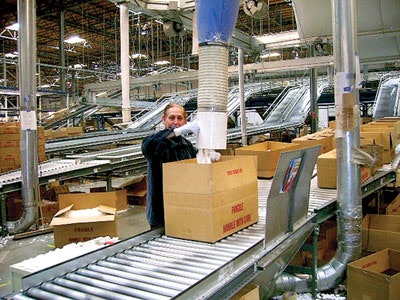 Many times, expanded polystyrene packing peanuts are added to a shipment because they provide the most cost-effective means of protection. In the past, shippers were faced with a dilemma of whether to go "green," by choosing natural, biodegradable loose-fill products, or to save green, by using petroleum-based materials.
But that has changed within the last few years. As the costs for petroleum-based products have increased, more companies are finding that they can save the planet while saving cash, too. Such was the case for Specialty Merchandise Corp., a Fontana, CA, direct-sales marketer of collectibles and home décor items. In 2006, SMC switched from the use of EPS peanuts to protect its shipments, to Pelaspan™ Bio, an all-natural, biodegradable loose-fill from Storopack (
www.storopackinc.com
).
According to SMC vp of distribution Carlos Ordonez, the switch to the new loose-fill product has resulted not only in a more environmentally friendly solution, but also greater customer satisfaction, a cleaner packaging environment, and better product protection. "In terms of cost," he adds, "we haven't been able to find another packaging material that is as cost-effective as this one."
Speedy filling

SMC operates out of a 607,000-sq-ft facility, with 100 operators picking and packing from 7,000 to 10,000 shipments per day during the slow season—January through September—and with additional operators helping to prepare from 10,000 to 20,000 packages per day during the October-through-December busy season. The company uses from three to six packing stations, depending on the time of year, that are connected by conveyor to its picking module.
When orders are ready to be assembled, SMC's picking system indicates the size of corrugated shipping case to be used. The operator fills the bottom of the specified case with up to a 1.5-in. layer of loose fill and sends the case through the picking module. When the order is complete, the case is placed on a takeaway conveyor that carries it to one of the packing stations, where an operator fills the rest of the case with Pelaspan Bio from an overhead bin.
Because of the wide variety of products that SMC ships—from fragile items such as porcelain figurines, spun glass, and mirrors, to heavier products like books and wooden objects—a cushioning material that can easily move into open spaces between items is vital for maximum product protection and packing speed. Unlike EPS loose fill, which had to be pushed by hand into the spaces between products, Pelaspan Bio's flowability allows it to automatically migrate into these open areas.
This, along with Storopack's proprietary Whisper air-conveying system, which helps move bulk loads of loose-fill from trailer truck to SMC's overhead delivery system in under 30 min, has greatly enhanced packing speeds, notes Ordonez. "The material flows as fast as the operators can work," he says. SMC typically uses one truckload, or 4,494 cu ft of material, per day and two loads per day during its busy months.
Design makes the difference

Pelaspan Bio is derived from annually renewable resources: a mixture of corn and potato starch. The loose-fill pieces use an S-shape design that allows them to interlock within a container to provide stronger cushioning, reduced migration, and increased stability.
According to Ordonez, the material's lighter weight, when compared with EPS void fill, has resulted in reduced shipping costs, while its firmer structure has resulted in the need for less material per case, better product protection, and fewer returns, for a tangible cost savings.
Pelaspan Bio is also static-free and is cleaner than some other loose-fill products, according to Storopack. "Advances in manufacturing technology allow current all-natural products to be made with a harder outer surface and a stouter overall design. This provides optimal interlocking of the materials, with no breakdown into dust. The result is a cleaner, free-flowing material," the company says.
Ordonez confirms that the use of Pelaspan Bio has resulted in a tidier packing operation, as well as fewer complaints from customers who were tired of dealing with the clingy EPS product. "Since we switched to the biodegradable material, we've never had another issue," he relates.
Customers also appreciate receiving their products packed in a biodegradable loose-fill material that can be dissolved with the spray of a garden hose. "We wrote up an article letting our customers know that we had switched to a natural material," says Ordonez. "The change was very well accepted within our customer base."
With the cost, quality, and productivity advantages gained from the switch to all-natural loose fill, Ordonez firmly notes that SMC will "never go back."
Companies in this article