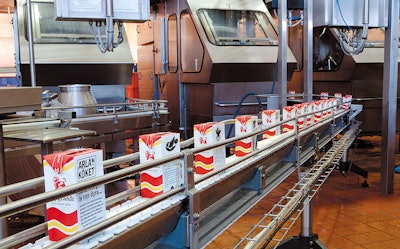 On conveyor systems it builds to connect machines in a filling line, FlexLink has installed Festo pneumatic components that function as clamping stopper cylinders along the conveyor path. Utilizing both Festo ADVU compact cylinders and the CPV valve terminal, Flexlink was able to save space on the system without sacrificing power.
"In these conveyor and distributor systems, we use Festo ADVU compact cylinders as rotary and clamping stopper cylinders," says Peter Nauwerck, general manager of FlexLink Germany. "The compact cylinders are just as powerful as standard cylinders, but they take up only half as much space."
The FlexLink conveyor system is designed to bring packaging materials to a filling machine, for example, or plastic or glass bottles to a labeling station. Built with non-porous, water-repellent stainless-steel surfaces, conveyors can be cleaned quickly and require no lubrication. The conveyor linkage system connects modules together without welding or laborious mechanical installation.
Festo CPV valve terminals control all pneumatic valves on the conveyor system. They are compact, robust, and optimized for cost, says Nauwerck. Capable of controlling up to eight valves, the CPV valve terminal is equipped with advanced connection and bus technology for quick and interference-free data flow. Terminals control high-flow valves with minimal electrical power consumption.
Among the other Festo components used for the pneumatic automation of FlexLink's systems are D-series service units, says Nauwerck. Like the CPV valve terminals, they too can be controlled via AS Interface. That brings FlexLink a level of pneumatic compatibility that simplifies their installations. "This means we're able to obtain everything we need from a single source," says Nauwerck.
According to a presentation Nauwerck made in December 2004 at Festo's German headquarters, some of the conveyor systems are also equipped with Festo DFM drives for clamping and lifting functions. They offer high-precision guidance and absorption of torque loads, high-load capacities, and pneumatic end position cushioning.
These particular FlexLink conveyor systems are currently in use at a Valvoline facility in Canada, and at Arla Foods worldwide, a leading European dairy company.
Companies in this article