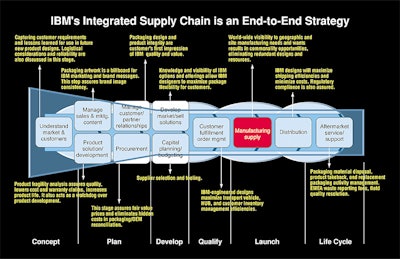 Since 2002, IBM Corporation, New York, NY, has documented $50 million in cash savings based on improvements in efficiencies of shipping and distribution packaging. A good portion of savings was achieved by using a disciplined product development process called Integrated Product Development (IPD) that helps reconfigure, redesign, or downsize packaging without downgrading package performance. Put into practice in the early 1990s, IPD is the combination of IBM's marketing and product development processes that determines the "go-to-market" strategy for products and services.
IPD is part of the $96-billion company's Integrated Supply Chain (ISC) operations, a division with 19ꯠ employees in 56 countries that was launched in 2002 to streamline procurement, logistics, manufacturing, and fulfillment procedures. IBM says that in 2004, ISC was responsible for generating $285 million in profits for IBM, while it reduced inventories to their lowest level in 30 years and improved sales force productivity by 25%.
Described as an integrated "stage gate" process for product portfolio development, IPD stipulates defined roles, responsibilities, and organizational constructs. Its effectiveness depends on multi-disciplinary teaming, integration, and accountability at all levels—including R&D, manufacturing, packaging, marketing, and sales. Bob Sanders, manager of corporate packaging programs for IBM's Global Logistics/Integrated Supply Chain, says, "Think of it as an assembly line where IBMers from every job role have direct input into the development of a new IBM hardware or software product."
For the past 12 years, IBM has filed almost 30ꯠ patents—each of which potentially could evolve into a commercial marketplace product or service. The IPD process weeds out those products and services that are considered least likely to harvest viable business opportunities before they start absorbing too much funding.
It works like this: When an IBM product development project gets the green light and the design concepts are on the drafting table, packaging design considerations immediately are brought into the equation. The objective is to ensure that packaging specifications respond optimally to practical logistics issues such as fitting pallets not only into cargo planes and freight elevators, but also through warehouse dock doors. Also addressed are product protection issues such as securing pallet loads to avoid damage during distribution and storage.
Primary product and package ruggedness are initial goals because rugged product design can reduce packaging, distribution, and warranty costs, as well as damaged product recovery costs. Once the primary product and package design is established, secondary packaging, unitized load configurations, and pallet designs are evaluated. The IPD process mandates that the product meet specific IBM test standards for shipping and handling. If the tests are successfully conducted, unitized load design and configuration then can be finalized. The process requires careful integration of product and package design from start to finish in order to achieve the best performance and the best cost.
A case in point
Due to environmental concerns expressed by the general public in Japan, IBM's clients there prefer paper-based packaging over plastic packaging. In order to avoid use of plastic foam cushion shipping materials for its ThinkPad brand lap-top computers, IBM needed to find paper cushioning that could increase packaging durability and product protection properties or change the product or packaging design in some other way to compensate for the lack of foam cushioning. Sanders emphasizes, "We will go out of our way to give our clients what they want."
When considering protective packaging alternatives for its ThinkPads, IBM performed an initial fragility analysis to determine if improvements could be made in product design to increase durability. IBM's Japan team found that the internal components of the ThinkPad hard-drive mounting could be re-configured in a way that would effectively increase ruggedness enough to allow the use of paper-based cushioning materials without sacrificing product shipment safety and durability.
IBM then engaged their corrugated packaging supplier, Nittsu Shoji Co., Ltd., to collaborate on the design of paper-based cushioning. Working samples were developed for lab endurance, vibration, and drop testing.
When the project was completed, IBM ultimately ended up with a smaller ThinkPad package that cost less to ship, reaping more than $2 million in savings. Instead of shipping 24 laptops per pallet, the company could now ship 36 per pallet—a 50% increase in shipping efficiencies, due to individual package size, weight, and dimension reductions.
In addition, the new packaging also incorporates paper tape, supplied by Sekisui Chemical Co., Ltd., rather than plastic tape, rendering an entire package made from renewable resources. Consequently, IBM's Japanese customers were able to significantly reduce their waste recycling costs.
Global transit integrity
With the realities of IBM's burgeoning global and largely outsourced supply chain, the importance of high-performance, cost-effective shipment packaging is increasingly crucial and challenging. Radio-frequency identification (RFID) pallet tagging for inventory tracking also is beginning to be a major component for ultra-high-end items such as Big Blue's 300-mm chip wafers (each wafer is worth several thousand dollars), which are used in products such as cell phones and video game consoles. IBM is moving with deliberation into RFID implementation for other product categories as well.
But for many products, damage control is still the main priority. The company reports that, both domestically and internationally, customer satisfaction is at an all-time high. IBM attributes the satisfaction in significant part to on-time delivery of products in an undamaged state. Through its ISC and IPD processes, IBM is keeping its eye on the ball and on the globe.
Companies in this article