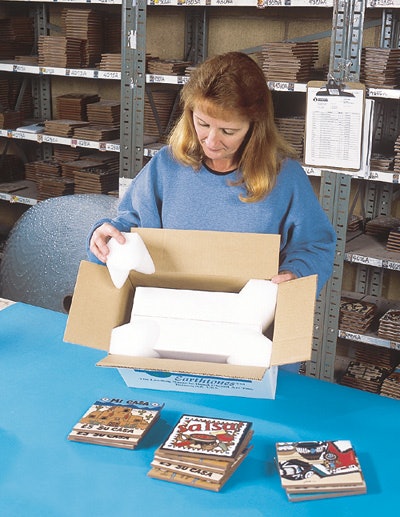 The 6x6'' tiles sell for about $15 apiece through a variety of channels from home improvement to gift to hardware stores. The tiles are packed on end, 26 to a corrugated case that is placed inside an outer corrugated shipper. Cushioning is used between the two cases.
"We used a thick, expensive air cushioning product to protect our tiles," says general manager Brian Young. When the manufacturer discontinued producing the cushioning, Earthtones scrambled to find a replacement. Solutions like expanded polystyrene pellets, corrugated corners, and even newsprint couldn't keep damage under 25% to 30%.
In late 2002, Earthtones began using Corner Keeper™ protectors manufactured by Pactiv (www.pactiv.com). The cushions are supplied preperforated in 6'-long cylinders by Whitmark Packaging (www.whitmark.com), a division of Supply One. The cushions are made from a 4"-dia cylinder of closed-cell extruded polyethylene foam precut into a 3-D, 90? angle that conforms to a corner of a cube-shaped product or package. The outer surface also has a 90? cutout to fit snug inside a corner of the outer shipper. A Corner Keeper is placed into each of the four inside corners of the outer case. Unlike other types of cushioning, the Corner Keepers can withstand multiple impacts. It is also quicker cushioning: The company reports that with the new cushioning, it now packs an average of 40 boxes per day, 15% faster than before.
The result? "Our damage dropped down to two to three percent!" exclaims Young. "We finally have a way of getting our high-quality, decorative tiles to market, without worrying about damage." —RL
Companies in this article