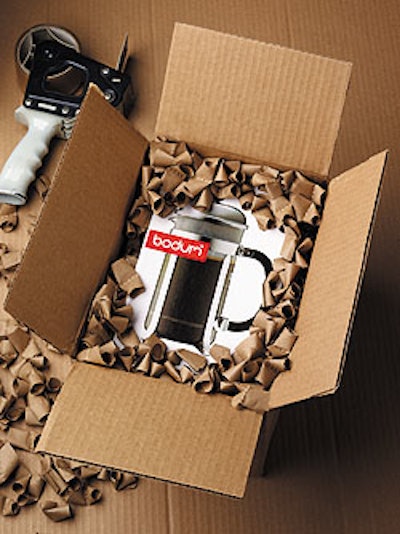 Over the past year, peanuts have given way to loose-fill dunnage made right at the point of use from rolls of recycled paper.
Since the switch was made about a year ago, says vice president of sales Joe Ronowski, annual savings are in the range of $100ꯠ. "Not only does this cost less, it saves warehouse space," adds Ronowski.
At the Aurora, OH, facility that serves as AtomicBox.Com's headquarters, two Spirofil® loose-fill machines from Phoenix Systemation (Cuyahoga Falls, OH) are used to convert roll-fed kraft paper into coiled bits of paper. Products shipped by AtomicBox.Com—which can be anything from a kitchen appliance to a child's toy—are cushioned by the Spirofil loose-fill inside a corrugated shipper.
"We no longer store huge amounts of dunnage," says Ronowski. "We make protective packaging only as we need it." —PR
Companies in this article