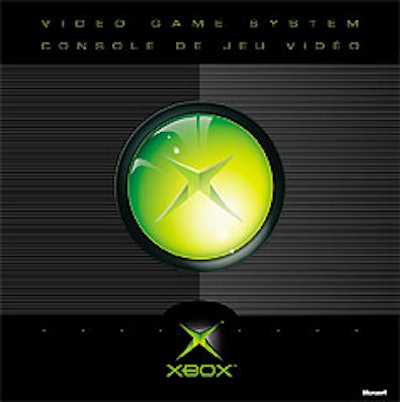 After soliciting concepts from several firms, Redmond, WA-based Microsoft awarded the design work for the box to SBI and Company (Salt Lake City, UT).
"SBI's designs most accurately capture the performance and power of the Xbox video game system," notes Don Coyner, Microsoft's director of brand marketing.
The E-flute corrugated container's outer 12-pt SBS liner is offset-printed in six colors plus two coats of UV varnish. That's done by printers in the United States and Europe.
The green orb or "jewel," the package's single most dramatic feature, was borrowed from a feature on the console itself. The jewel has a 3-D appearance due to a spot varnish applied over the printed orb that helps to highlight it. It is largest on the box's 15''-wide front panel—a dimension that enables the boxes to be displayed three-across on a standard 48''-wide retail shelf.
Microsoft's Justin Kirby, the lead marketing manager for Xbox, tells Packaging World that the "'Jewel on Black' creates an unmistakable look at retail with a dominating shelf presence. The unified flood of green and black at retail has overpowered our competitors' packaging."
Inside, the components include the bagged literature, controller, and console protected by expanded polystyrene end caps. "We felt the box and cushioning gave us the best combination of graphics presentation and strength at an affordable cost," sums Kirby. Xbox debuted November 15 at more than 15ꯠ retail locations nationwide where it sells for $299. For more details, see Packworld.com/go/xbox. (RL)
See the sidebar that goes with this story: Design goals
See the sidebar that goes with this story: Protective details
Companies in this article