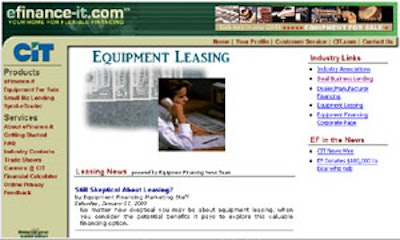 An equipment financing site called efinance-it.com from CIT Equipment Financing (www.efinance-it.com) allows packaging machinery buyers or sellers to manage their equipment financing needs online. After buyers or sellers apply for financing offline, they're given a user ID and password that allows them to track the approval process online, culminating in an e-mail notification when the approval is complete. Users can track every aspect of a portfolio of financed equipment, including current and historical invoices, active contracts, closed contracts, past due status and historical past due reporting. Eight financial calculators are also on the site.
Sprinter Marking's (www.sprintermarking.com) new site is cleanly designed with extensive technical details on its ink-code marking machines. The site covers how the equipment operates, product features, selection criteria, specifications, mounting arrangements, optional equipment and warranty information. Pictures can be magnified for more detailed viewing. A detailed feedback form on the site allows users to address detailed feedback on their application needs to any of several specific individuals named on a drop-down menu.
Polyair (www.polyair.com) has launched its new Web site with improved navigation. Users can now search through the site by packaging application, such as surface protection, mailing & fulfillment, cushioning, blocking & bracing and voidfill. Photos showing examples of each application make it explicitly clear what each application consists of, making it easier for users unfamiliar with protective packaging to locate the precise product they need. For each product, extensive details are available and divided into three categories: features, advantages and benefits.
See the main story that goes with this sidebar: Supplier sites: The pain and the promise
Companies in this article