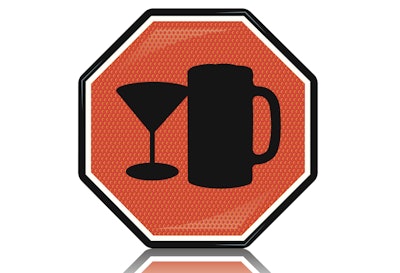 People are consuming less alcohol, and the media is pointing at the younger generation as driving the trend. As a recent article from The Washington Post, titled, "Millennials have sparked a sober revolution, and alcohol brands are starting to notice," claims, "The millennial- and Gen Z-driven trend is seen as part of a burgeoning wellness movement, a desire to have social gatherings less focused on alcohol (and the next mornings less fuzzed by aftereffects), as well a shift toward abstemiousness more generally."

However, new polling and analysis from Morning Consult shows that it's not just the under-40 crowd exploring other options; adults of all ages are cutting back on drinking. According to the poll, nearly half of consumers, regardless of age, have purchased non-alcoholic alternatives, and just over four in 10 of the drinking-age population doesn't drink, suggesting that the "sober curious" trend—consisting of those who drink less or not at all and broadcast their abstinence with pride as a part of their social media personas—has enough momentum to reshape parts of the alcohol industry.
Among the poll's other findings:
Compared to one year ago, 31% of drinkers said they're drinking less while most (56%) said they're drinking about as much. Younger adults, ages 21-29, are not much more likely than other age groups to say they're drinking less. In fact, given a one- and five-year time frame, young adults are more likely than their older counterparts to say they're drinking more now.
Forty-six percent of the drinking-age population has tasted a non-alcoholic beer or cocktail. That share stays roughly similar no matter the age. Notably, those who regularly drink are more likely to have bought a non-alcoholic drink than teetotalers, suggesting there is money to be made by the growing non-alcoholic beverage industry, and that traditional alcohol brands could suffer if they don't adapt.
Forty-three percent of the drinking-age public doesn't drink: 28% said they used to drink but don't anymore, and 15% said they've never drunk alcoholic beverages.
Desiring a healthier lifestyle (67%), wanting to save money (55%), and losing weight (44%) were the top reasons people have started to drink less.
Citing figures from drinks market analysis firm IWSR, Morning Consult says RTD non-alcoholic products will see the largest growth between 2018 and 2022, at 38.8% CAGR, compared with wine at 17.7%, spirits at 7.1%, and beer at 5.6%.