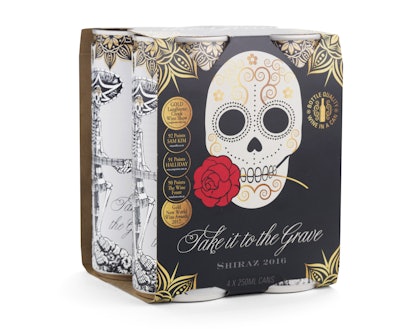 The canned wine market is experiencing growth of more than 50%, with Gen Z, millennials, and Baby Boomers all buying wine in a can at the same level. A new study from researchers at Susquehanna University and Texas Tech University of 1,000 people aged 21 to 88 determined there are six main drivers of canned wine's popularity:
1. Convenience: The can format lets consumers take wine where it is inconvenient or illegal to take wine in a bottle, such as poolside, camping, the beach, etc. It also offers opening convenience, as it does not require a corkscrew to open or glasses to consume. The individually-sized portion also means consumers don't need to finish the bottle all at once.
2. Occasion expansion: The can expands the occasions or locations in which wine can be enjoyed—boating, tailgating, and concerts, among them.
3. Sustainability/cost savings: Aluminum is 100% infinitely recyclable, a feature that sustainability-minded millennials rank high. The study claims that aluminum cans are less expensive to fill and ship, are easier to stock and stack, result in less breakage, and are easier to pack in singles or in multipack cases.
4. Quality: Notes the study, wineries say wine in a can maintains quality better, since it prevents light and oxygen egress. And, because it only holds one portion, there's no risk of leftover wine degrading in quality.
5. Portion control and variety: The can allows waiters and bartenders to more easily measure portions and allows for single-serve consumption. It also lets consumers sample more variety due to its small size versus a large bottle.
5. Visual image/branding: Cans can be decorated with 360-deg labels, digital printing, or shrink wrapping, and multipack cases can also be printed with eye-catching branding, making it very "instagrammable."
Given the results of the study, researchers advise winemakers offering wine in a can to shift their focus from targeting demographics to targeting convenience and the occasion or situation in which the wine is to be consumed. "Convenience and occasion expansion trump wine knowledge and demographic segmentation," they note.
The study also added that cans for wine add to the existing market, rather than cannibalizing sales from bottled wine.