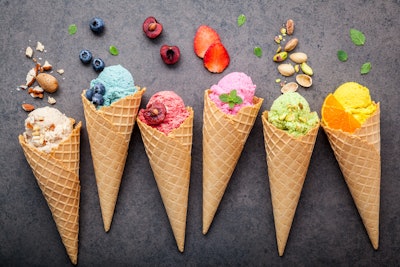 A new report from Allied Market Research predicts a sweet CAGR of 5.4% in the ice cream market from 2017-2023, growing from $70.8 billion in 2017 to $97.3 billion by the end of the forecast period. This growth, says the report, can be attributed to a high demand for ultra-premium ice cream products made from high-quality ingredients, a surge in the number of online food delivery platforms, and an increase in consumer preference for lactose-free ice cream. However, it cautions, growing health consciousness among consumers to curb sugar consumption and an increasing incidence of lactose intolerance worldwide are expected to hinder the market growth. Conversely, says Allied, the expansion of retail channels such as hypermarkets, supermarkets, convenience stores, and grocery stores coupled with the expansion of the cold storage industry will provide lucrative opportunities to the market.

Among sales types, the take-home segment held the largest share in 2017, accounting for almost three-fifths of the total revenue in 2017. This segment is expected to retain its dominance through 2023 due to the growing preference in Western Europe and North America for take-home ice cream as a snack and innovations in packaging for more convenience, storage, and longevity. However, the artisanal segment is projected to register the fastest CAGR—5.7% from 2017 to 2023—due to a rise in consumer demand for handmade ice creams containing high-quality ingredients and a surge in the number of artisanal franchisees, especially in the emerging economies. Furthermore, the impulse ice cream segment is projected to see steady growth during the study period.

According to the report, Europe is expected to accrue the highest revenue, while the market for ice cream in Asia-Pacific is forecast to grow the fastest through 2023.In 2017, the ice cream market in Europe contributed more than one-third of the total market share and is projected to retain its lion's share through 2023. This, the report claims, is due to an increase in off-season sales, an rise in the availability of premium offerings, and the growing trend of eating ice cream as a snack. However, the Asia-Pacific region is expected to register the highest CAGR, at 6.5% during the forecast period, due to the growing demand for innovative products in countries such as India and China, owing to the expansion of the retail sector and an increase in disposable income.