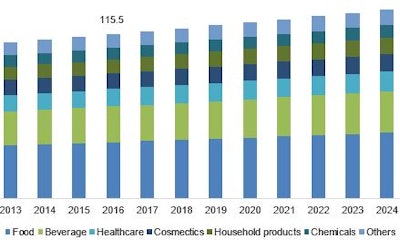 The global packaging materials market will be worth more than $1.3 trillion by 2024, according to a new Global Market Insights research report.
With economies such as China, India and South Korea, the Asia-Pacific region is witnessing increased consumption of food and beverage products, which will drive packaging materials market demand.
In 2016, Asia-Pacific food and beverage market sales topped $3 trillion, and the region is likely to witness a higher growth rate. Cereals, meats, oils and fats are helping to generate this growth, which the report expects will boost demand for flexible and rigid plastics, glass, metal, and paper packaging materials through 2024.
Consumption of beverages in the Asia-Pacific continues to rise. The region is the largest beverage market in the world, accounting for more than 40% of global consumption. Among all beverage products, alcoholic drinks were an important segment in the region, with beer being the major product. The consumption of non-alcoholic beverages such as sugar-sweetened drinks, health drinks, and fruit juices are also on the rise in the Asia-Pacific, attributable to increasing income levels and changing consumption trends. This consumption pattern will further drive demand for packaging materials such as rigid plastic, metal, and glass.
Among end users in the packaging material markets, GMI predicts the beverage segment is likely to increase more than 4% CAGR to reach a market value exceeding $300 billion by 2024.
Flexible plastics is the largest materials segment in the packaging materials market in terms of volume. GMI predicts this segment is likely to be valued at more than $190 billion by 2024, with growth augmented by food and household products. The availability of flexible plastic materials with distinct characteristics has turned this segment into one of the most important in the industry. The report cites the ability to manufacture flexible plastics into various shapes and sizes, with lower weight, superior performance characteristics, lower cost, and easy printability.
Bags, pouches, and wraps represent the largest product segment in the packaging materials market, covering more than one-third of the overall packing industry in terms of value. These materials serve a wide variety of items, including food, detergents, beverages, etc.