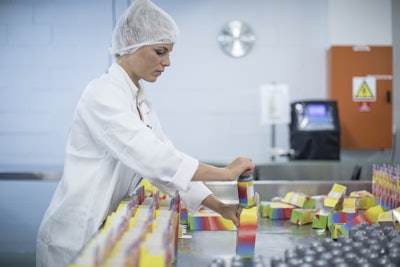 According to a new Smithers Pira report, "The Future of Business Models and Services in Packaging to 2020," the market for packaging services in 2017 was worth $33.7 billion, and by 2022 will be worth $50 billion—an annual growth rate of 9.5%. This contrasts with a mean annual growth rate of 2.9% for the supply of packaging materials across the same period.
Says Smithers Pira, a business model constantly needs to be evaluated and adjusted accordingly, especially as the consumption of packaging in some developed economies is reaching a plateau. In response, many packaging firms are diversifying, offering brand and retail customers enhanced services, colonizing segments of the supply chain previously run by specialists.
The main services identified in these new business model approaches are:
Contract packaging
Consumer research
Packaging design
Material testing
Predictive maintenance
These new commercial opportunities are being exploited by a range of companies, including material producers and suppliers, packaging converters, and processors and fillers. Capitalizing on this opportunity requires and understanding of the shifting dynamics of the business landscape for packaging and consumer preferences. Smithers Pira's examination of this evolving space identifies the following examples.
Contract packaging
A contract packager, or co-packer, is a company that packages and labels products for its clients. Brand owners' interest in using a packaging line that is not their own is increasing, especially in North America, as more companies choose to outsource parts of their supply chain. A recent example is Sonoco, which invested $20 million in developing a co-packaging center in North America.
Many CPGs are using co-packers for a short period of time, as it lowers the cost of trialing a new pack format, like a stand-up pouch, or making an initial entrance to a new geographic market, until they have caught up or invested in new capacity
Other brand owners and retailers are embracing this business model as part of a long-term strategy that minimizes the cost of owning equipment in-house and employing specialized labor. This model is being extended with packaging suppliers that are also setting up filling lines offering packaging services with their own products. However, this is not only attracting packaging firms; third-party logistics providers like DHL are also entering into this space by providing secondary packaging services.
Consumer research
There is an increasing onus on brands and retailers to gain more insight into their customers, as the modern consumer is presented with alternative sales channels like the Internet and more visually-busy shopping areas. Some of the same technology that distracts the 21st century shopper can also help offer an unparalleled level of insight into their behavior and interaction with packaging. This information is obviously highly valuable to those that make a product and the packaging.
Sharing consumer research is not new, but conducting exclusive consumer tests is a different story. Several companies have now set up ambitious supermarket environments for testing out the best packaging solutions. A good example is Smurfit Kappa, which has built up a network of Experience Centres around the world to give customers hands-on experience of the impact of packaging at every step of the supply chain.
Creating such centers of excellence also naturally dovetails with the provision of other services—especially design—in a single location.
Packaging design
Packaging design and prototyping is an extra service most leading packaging suppliers can and do offer to support customers who are looking for a way to improve the impact of their packaging. This is especially helpful for medium-sized and smaller customers that have a smaller number of dedicated creative staff.
Silgan has developed a four-step model for developing a unique packaging solution. Customers can make use of Silgan's bank of market information for inspiration, to build conceptual packaging using its technology, and even receive a 3D-printed prototype.
Design Studio is a Stora Enso concept and physical workshop environment where packaging solutions are developed together with the company's customers. Over 80 designers and 11 studios across the world make up this service line.
In contrast, some companies are choosing to keep the design studio separate from their usual business and thus create a design agency, often with a completely different name. Berry Plastics has adopted this concept with its Blue Clover Studios, rebranded as such in July 2015.
Materials testing
Packaging suppliers are well positioned to provide necessary testing on materials for designs they helped create. This draws on their experience of the distribution chain and can be increasing important as new materials, such as bioplastics are introduced; brands decide to change packaging material for lightweighting or other environmental benefits; and new regulations are introduced by legislators.
Major firms such as Sealed Air and Smurfit Kappa are running International Safe Transit Association (ISTA)-certified labs where paperboard and overall pack performance are tested throughout the supply chain. Packaging can be stress-tested in all different transport simulations and climates, and logistics insights are used to optimize the design of the packaging.
Newly merged DowDuPont offers lab testing of a package components' taste, odor, touch, and sound qualities, plus physical tests like drop testing, stretch-film testing, and top-load testing. International Paper is offering testing labs that simulate the supply chain environment to find new ways to improve a package design. U.K.-headquartered DS Smith has adapted its existing DISCS (drop, impact, shock, crush, and shake) testing concept for the emerging e-commerce packaging segment.
Predictive maintenance
Currently a relatively niche additional packaging service, predictive maintenance is set to be revolutionized, as more equipment and objects within the industry are fitted with a new generation of lightweight sensors and communication. This is part of broader trends—the Internet of Things (IoT) and Industry 4.0—and will make predictive maintenance the fastest growing of the five principal service models identified in this study.
The digitalization of equipment is increasing, making it possible to monitor machine parts remotely as one way to predict and prevent production breakdowns in operations. Here is a great potential for IoT applications to optimize operations and make production processes more efficient—that is, to manage operations and workflows using sensors, instead of human judgement. Data from production machinery can be used remotely, tracking and adjusting machinery based on sensor data.
Tetra Pak, for example, has recently announced a partnership with Microsoft's wearable technology division. Equipping maintenance staff with HoloLens augmented reality (AR) headsets will allow closer coordination of their work and the relaying of useful information, such as a machine schematic, directly to the engineer eye line, or connecting them to a more experienced colleague even when working in a remote location