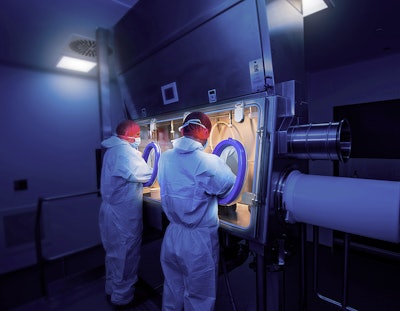 Earlier this year, Takeda Pharmaceutical Co. Ltd. announced that its ALUNBRIG™ (brigatinib) had received Accelerated Approval from the FDA for the treatment of patients with anaplastic lymphoma kinase-positive (ALK+) metastatic non-small cell lung cancer (NSCLC) who have progressed on or are intolerant to crizotinib. ALUNBRIG, a once-daily tablet, is a targeted cancer medicine discovered by ARIAD Pharmaceuticals, Inc., which was acquired by Takeda in February 2017.
The launch of ALUNBRIG also represented a significant milestone for PCI Pharma Services' (PCI) contained manufacturing facility in Tredegar (Wales, U.K.), which supported Takeda—through ARIAD— in the development, manufacture, clinical trial supply and U.S. commercial launch of ALUNBRIG.
PCI reports that ALUNBRIG represents the first molecule to complete the development-to-commercial launch from Tredegar. PCI now runs multiple projects within this contained facility, and expects a high percentage of these to achieve regulatory approval and commercial launch in global markets.
Takeda chose to partner with PCI for its specialist team of formulation scientists and the Tredegar site, which processes molecules with an Occupational Exposure Limit (OEL) as low as 0.01µg/m3 while eliminating the need for Personal Protective Equipment (PPE) for routine operations.
PCI's Richard Yarwood, Senior Vice President, International, said, "This is a significant milestone for our Tredegar site.The engineering solutions and geometric scale-up provided by our equipment trains ensured a smooth transition of ALUNBRIG through development, scale-up and ultimately commercial supply for Takeda."
Companies in this article