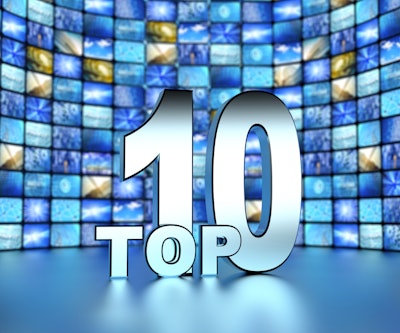 Who are the top 10 global packaging suppliers? Market research firm Technavio announced its top 10 leading vendors for the global packaging market from 2016-2020 in a new report.
To identify the top vendors, Technavio's market research analysts considered the top contributors to the overall revenue of this market. To calculate the market size, the report considers the revenue generated through the sales of different types of packaging materials.
"Customer convenience has become a priority for most of the vendors in the global packaging market," says Sharan Raj, one of Technavio's lead analysts for packaging research.
"While many consumer goods packaging companies are planning to launch innovative products, about 30 percent of these companies are focusing on new packaging designs or redesigning the existing packaging. The millennial population, especially working professionals with busy schedules, look for convenience in everyday products, especially food, beverages, and toiletries."
Below are Techavio's listing of the Top 10 vendors, with their comments: in
Amcor. Amcor supplies a range of rigid and flexible packaging products, specifically for the beverage, food, personal and home care, and healthcare, along with tobacco industries. The company operates more than 190 sites in 43 countries and employs over 29,000 people. For FY2015, the company generated revenue of US$9.61 billion.
Ball: Ball, along with its subsidiaries, manufactures metal packaging products for the food, beverage, and household industries. Ball announced the acquisition of Rexam, and it is subject to approval by regulatory authorities. For FY2015, the company generated revenue of USD$7.99 billion.
International Paper: International Paper is a paper and packaging company with the main market and manufacturing operations located in North America, Latin America, Russia, Europe, Asia, Africa, and the Middle East. The company manages 24 pulp, paper, along with packaging mills; 16 recycling plants; 169 converting and packaging plants; and three bag facilities in the US. It also operates 16 pulp, paper, and packaging mills; 67 converting and packaging plants; and two recycling plants across Europe, Asia, Africa, India, Latin America, and South America.
Crown Holdings: Crown Holdings manufactures and sells packaging products for consumer goods. Its principal products include aluminum and steel cans for beverage, food, household and other consumer products; metal vacuum closures and caps; and glass bottles for beverage products. At the end of December 2015, the company had 147 plants along with the sales and service facilities throughout 37 countries. For FY2015, the company generated revenue of US$8.8 billion.
Owens-Illinois: The company provides integrated digital recording and management solutions to its customers. Qognify's solutions help organizations capture and analyze big data to anticipate and mitigate security and safety risks, maintain business continuity, and streamline operations. The company operates its business through three segments: customer interaction solutions, security solutions, and financial crime and compliance solutions.
Reynolds Group Holdings: Reynolds Group Holdings is a global manufacturer and supplier of consumer beverage and food service packaging products and storage products. The company's key product portfolio includes foodservice packaging, aseptic carton packaging, food and beverage plastic containers, waste and storage products, caps and closures, cooking products, carton packaging, tablewares, liquid packaging board, paper products, automotive lubricant containers, and personal care containers. In FY2015, the company generated revenue of US$11.18 billion.
Sealed Air: Sealed Air offers products for food safety and security, facility hygiene, and product protection. Its offerings are used for food and beverage processing, retail, foodservice, healthcare and industrial, and commercial and consumer applications. As of December 31, 2015, the company employed about 23,000 people and is present in 62 countries with a distribution and sales network reaching about 169 countries. For FY2015, the company generated revenue of US$7.03 billion.
Smurfit Kappa: Smurfit Kappa manufactures and markets paper-based packaging products. It offers containerboard, corrugated containers, and other paper-based packaging products, such as solid board, graphic board, and bag-in-box. The company owns 34 mills (including 27 produce containerboard), 50 recovered fiber facilities, 229 packaging converting plants, 31 other production facilities, and 103,000 hectares of Latin American forest plantations. For FY2015, the company reported revenue of US$8.99 billion.
Stora Enso: Stora offers renewable products for the biomaterials, packaging, wood, and paper industries worldwide. The company employs around 26,000 people in over 35 countries worldwide. The company's annual production capacity is 6.4 million metric tons of paper, 5.7 million metric tons of chemical pulp, 1.3 billion square meters of corrugated packaging, and 5.2 million cubic meters of sawn wood products. For FY2015, the company generated revenue of US$11.14 billion.
WestRock: WestRock is a global packaging company focused on operational excellence and customer innovation. It is a merger between Rock-Tenn and MeadWestvaco. It has over 275 operating and business locations worldwide.