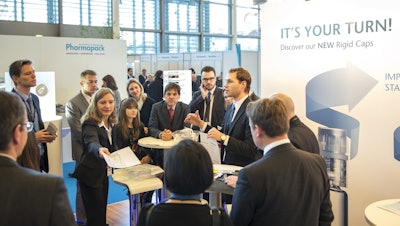 Serialization and the pharmaceutical industry's efforts to overcome counterfeiting proved popular among the 3,409 visitors and 387 exhibitors at Pharmapack Europe, held at the Paris expo Porte De Versailles in February.
Those attendance figures represented 12% and 15% gains among the two groups, with 70% of the exhibitors being international.
The serialisation, track-and-race symposium covered the ongoing implementation of those technologies, as well as an expert discussion on the implications of the pan-European authentication scheme and its impact on contract manufacturers, OEMs and international pharmaceutical companies. Part of the agenda included an interactive exchange on enhanced anti-counterfeiting strategies, focusing on using efficient authentication technologies to support brand protection and supply chain integrity.
Patient centricity was another key trend to emerge, with sessions and workshops on how to improve engagement and cater to patients. In fact, three out of seven award-winners were related to product ease-of-use and patient protection, while two Learning Lab sessions covered new insights on serving patients through enhanced packaging.
Innovation was at the forefront of the event, with the Innovation Gallery showcasing 21 visionary products from the exhibitors. Four of these contributions were awarded in the Exhibitor category; along with three products from visitors for the Health Product category. Completing the focus on innovation at the event, the Innovation Tours helped educate attendees on patient compliance packaging solutions and medical polymer technologies for pharmaceutical packaging and drug delivery.
The next edition of Pharmapack Europe will take place on the 1st and 2nd of February 2017, again at the Paris expo Porte de Versailles.
.
Companies in this article