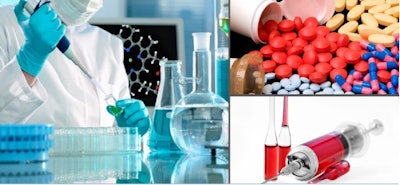 The global biosimilars market could reach $35 billion by 2020 from the estimated $1.3 billion in 2013. Deeper penetration with clearer regulatory pathways in developed markets and higher efficacy and safety in emerging markets will back the market growth during the forecast period.
That's according to a new report by Allied Market Research, "Global biosimilars/follow-on-biologics market (types, applications and geography)—Size, Share, Global Trends, Company Profiles, Demand, Insights, Analysis, Research, Report, Opportunities, Segmentation and Forecast, 2013-2020."
Allied's report suggests that More than 10 blockbuster biologics with annual sales of $60 billion are facing patent expiries in Europe and in the U.S. during the next four years. Top pharmaceutical manufacturing brands are repositioning their strategic agendas from approvals to product launches to gain market capitalization.
"Biosimilars developers have been using emerging markets with less intellectual property protection as their launch pad for established markets" say AMR analysts. "With regulatory framework maturing in established markets, it will be easier for biosimilars manufacturers to quickly enter into such markets," analysts added, citing collaboration between Mylan and Biocon to commercialize biosimilar of trastuzumab in India and the approval of first biosimilar version of monoclonal antibody drug by Hospira in Europe. Due to lower intellectual property rights protection and higher activity of regional players, the Asia Pacific region has emerged as the leader in biosimilars market.
Biosimilars as a cost-effective alternative provides room for economical biopharmaceutical medications for chronic disorders that are rampant around the globe. The widespread chronic disorders and the need for cost-effective medication are driving the biosimilars commercialization.
The strategic collaborations for global expansion, especially for the high potential segments such as monoclonal antibodies (mAbs) and erythropoietin will be key to the market growth; however, the strategies are persistently threatened by traditional patent infringements. Key product segments such as follitropins, interferons, and insulin biosimilars will emerge as lucrative segments in the long run. Certain therapeutic classes such as oncology and autoimmune diseases will gain importance from the biosimilars developers as these classes will have higher room for growth due to awaited patent expiries during 2014 -2019.
Key biosimilars developers such as Novartis (Sandoz), Synthon Pharmaceuticals, Inc., Teva Pharmaceutical Industries Ltd., LG Life Sciences, Celltrion, Biocon, Hospira, Merck Serono (Merck Group), Biogen idec, Inc. and Genentech (Roche Group) have adopted approval and clinical trials as key developmental strategies to gain competitive edge in the pharmaceuticals market. These firms are also focusing on adhering to regulatory guidelines to expand in the world markets.
Allied Market Research (AMR) is a market research and business-consulting wing of Allied Analytics LLP based in Portland, OR.