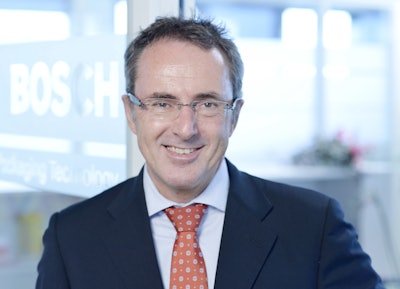 Bosch is setting its sights on impressive growth for the future. As Friedbert Klefenz, President of Bosch Packaging Technology, told attendees at a press conference on day one of interpack 2014, "We intend to increase our sales to 1.5 billion euros by the end of 2015. Last year's figures show that we are on the right path."
In 2013, Klefenz revealed, Bosch generated sales of 1.1 billion euros—some 200 million euros higher than its 2012 sales. "After adjusting for consolidation effects, we achieved 6.4 percent growth," he added. "Without adjusting for currency effects, our sales were 10 percent higher than the previous year."
So what's driving this rapid growth? Pharma and food, he said, which generated more than 90 percent of Bosch's sales in 2013. "The pharmaceutical arm of our business did especially well, with a nine percent increase in sales," he added.
Discussing to the pharma industry, Klefenz said: "For the coming years, we expect the pharma sector to keep growing strongly. This will be the result of new developments from research-based pharmaceutical companies and the growing importance of generic drug manufacturers. At the same time, this field of business is placing growing demands on the packaging industry as a result of increasingly complex substances and the ever-greater demands of manufacturers and lawmakers. This calls for major innovative strength. Last year, Bosch Packaging Technology spent about 4.5 percent of sales on research and development. This placed the company at the upper end of the industry average once again."
In the area of food, Bosch's strategy is to expand its business in liquid food and selected beverages, Klefenz told attendees.
Full-service supplier
In both food and pharma, Bosch is positioning itself to meet consumers' need for a full-service supplier. "Increasingly, customer expectations can only be met by companies with broad expertise and a strong regional presence," Klefenz said, adding that Bosch offers a growing number of flexible solutions that can be combined with one another. These include single units, modular systems, and full packages. Its portfolio also comprises everything from processing and packaging machinery to technologies for product handling, automation, and inspection.
In 2013, Bosch received the biggest order in its company history from a Mexican biscuit maker that has ordered two complete packaging lines, each of which is 150 m long. Each line operates with six horizontal filling and sealing machines with fully automatic cartoning, and can package more than 17,000 biscuits/min.
Bosch also plans to venture further into packaging materials, consumables, and packaging solutions. Two examples of material innovations already in the market cited by Klefenz include Bosch's valves for coffee packaging, and its PreVas—pre-validated, pre-assembled, and pre-sterilized—single-use filling system for the pharmaceutical sector.
Growth through 2020
In 2013, Bosch unveiled its Vision PA 2020 strategy, the details of which were shared by Klefenz at the interpack press conference. The two main pillars of the strategy, he shared, are expansion by Bosch in both its markets and its fields of business.
"On the path toward 2020, we continue to systematically build on our market presence. In the future, Europe and North America will continue to be global drivers of innovation, and both regions have a sound economic base. In addition to this, we also expect to see above average growth in Asia and Africa. And we aim to open up markets in Eastern Europe and Latin America as well… .
"Regarding the expansion of our fields of business: We intend to build on our offer and our presence in the pharmaceutical, food, and confectionary sectors, and perhaps also in related fields. In addition, with acquisitions and innovations, we will further enhance our technical expertise and
value-added chain. …
"Expressed in Twitter talk, our aims could be summarized as follows: #PA2020strategy: opening up new markets and fields of business; significantly increasing sales and headcount, improving profitability. #interpack"
Companies in this article