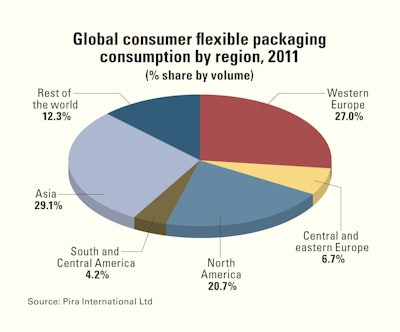 Flexible packaging benefits from a widening range of new products being developed by brand owners in an increasingly competitive consumer marketplace. Barrier flexible packaging will continue to grow in importance as major retail chains demand greater product protection and longer shelf life.

That's according to Pira Intl.'s new study The Future of Global Flexible Packaging to 2016. The study expects higher-barrier plastics such as BOPET, EVOH and PA to show the highest growth rates over the forecast period.

The research says that the tonnage for the global consumer flexible packaging market is projected at 18.1 million in 2011 and is forecast to reach 22.5 million tons by 2016.

According to Adam Page, head of reports and consultancy at Pira International: "Brand owners value flexible packaging for its versatility, comparative low cost and potential for innovation. It is also a lighter-weight pack format, a key attribute given the growing importance being attached to carbon footprint analysis and the environmental impact of packaging."

Pira notes that flexible packaging has reached market maturity in the developed nations of North America and western Europe and future growth will be modest. However, the firm expects flexible packaging to see stronger growth in developing countries.

Asia is the largest regional market with 29.1% of global market volume in 2011, followed by western Europe and North America. Asia is also the fastest-growing market for consumer flexible packaging, with a forecast Compound Annual Growth Rate for 2011-16 of 7.9%. The region is forecast to represent 55.0% of total world flexible packaging consumption growth during the period 2011-16. India and China are the fastest-growing national markets for consumer flexible packaging according to Pira, together accounting for 44% of world flexible packaging consumption growth during the forecast period.

Food accounts for almost three-quarters of global consumer flexible packaging markets and consumption in 2011, with meat, fish, and poultry the largest food sector for flexible forecasts packaging, followed by confectionery and baked goods.

The Future of Global Flexible Packaging to 2016 is available for £3,750. For more information, contact Stephen Hill at +44 (0) 1372 802025, or via e-mail on stephen.hill@pira-international.com.
Companies in this article