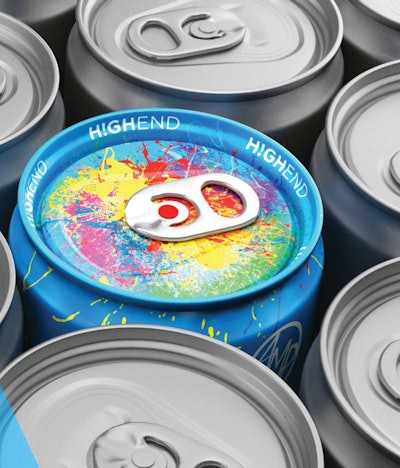 In their pursuit of sustainability, can makers are being driven by regional and local government policies that are pushing to eliminate packaging waste, as well as consumer preference for containers perceived to be "sustainable."
The phrase "sustainable packaging" is often taken to mean, "made for more than one use" and "not made of plastics."
In their desire to satisfy their customers and comply with packaging-diminishing policy mandates without going out of business, can makers are working to refine their sustainable design and engineering technologies. The aim of these initiatives is to broaden the capabilities of metal containers beyond their traditional applications into new territories, including the challenging potable water market, the specialty realms of glamorous cosmetic applicators, and demanding pharmaceutical packaging.
The North American metal packaging field is expected to expand by a compound annual growth rate (CAGR) of about 4% into the 2030s. The growth rate for metal caps and closures is expected to rise "at a healthy CAGR of 6% between 2022 and 2032," according to researcher Future Market Insights (FMI). The firm expects North America to account for about 12% (~$51 billion) of the global market by 2032. That would allow cans to continue enjoying the bigger (88%) slice of the 2030s metal packaging market pie.
If recent metal packaging developments are any indicator, the future of metal packaging will evolve from its linear development-delivery-disposal process into a far more circular development-delivery-reclamation-reutilization business. Some developments coming out of the circular manufacturing model could include:
• Decarbonized steel cans. Microbes prepping ore for Direct Reduced Iron (DRI) hydrogen refining into iron for packaging applications could lead to lower/no carbon-footprint steel cans. In the DRI process, microbes eat impurities in the ore to smooth its processing without the need for high-energy consumption blast furnaces. Mining company BHP Group Ltd. is working with Allonnia, a biotech start-up, to whet the microbes' appetite for gangue (impurities in which ore is embedded).
• Setting circularity records. Are 100% of aluminum beverage cans recycled? Not yet, but Brazil hit 98.7% in 2021, enough to let them boast about achieving 100% recyclability, according to local authorities. 100% recyclability is more than twice as high as U.S.'s best (45.2% in 2020). "If aluminum cans are to be a perfect fit for a circular economy," says can maker Ball Corp., "then the recycling rate needs to be close to 100%. We believe that is possible by 2030."
• Dimpled can walls. As far back as the 1960s, Toyo-Seikan Co., Ltd. developed its Diamond-Cut can dimpling process for two-piece drawn and ironed steel or aluminum cans. Diamond-Cut dimpling reduces the weight of the cans by 30% while making them three times more resistant to panel crushing. It also improves the gripability of the cans, and potentially increases their impact resistance, making them particularly well-suited for beer and carbonated beverages.
• Lower carbon footprint. A proprietary aluminum alloy called ReAl is behind Ball Corp.'s next generation aluminum aerosol shell with a claimed carbon footprint that's 50% smaller than a standard aluminum aerosol can. Ball relies on hydroelectric power to extract the metal from bauxite, cutting emissions of carbon dioxide equivalent (CO2e) by 75% vs. the global average for aluminum production.
• All around more colorful. Advanced metal can printing technologies lay down sidewall-to-top CMYK graphics. Ardagh Metal packaging is debuting its H!GHEND printing technique in Europe. American craft brewers were first to see Ball's Cameo End Printing technology at 2018 Craft Brew Conference.
• Aluminum healthcare bottle options. As an alternative to plastic bottles, Chilean manufacturer Condensa offers 105mL-, 180mL-, 300mL-, and 347mL-capacity threaded or flip-top capped aluminum bottles for dry nutraceutical, OTC oral doses. Bottles incorporate BPA-NI internal coating.
• Refillable applicators. Replenishable "zero waste" metal sheaths and tubes for mascara and refillable metal pots for makeup are trending in the beauty market. Key to their success are designs that simplify replacing and refilling of spent containers.
---
Companies in this article