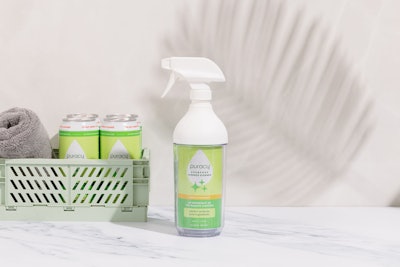 One quote often applied when developing sustainable packaging is that "perfection is the enemy of good." In other words, it's better to make incremental changes to your packaging that advance its sustainability than wait until every challenge can be addressed. This is the approach plant-based cleaning and personal care products company Puracy has taken with its packaging.
Since the launch of its first household cleaning products a decade ago, the Austin, Tex.-based company has evolved from single-use plastic packaging, to a refill in a bottle, then to a pouch, and finally to its current, most convenient, consumer-friendly package yet: the Clean Can refillable, reusable packaging system. Components of the Clean Can System include a reusable PETG base with screw-on top and pump or trigger spray and a standard aluminum beverage can that holds the refill and quickly and easily snaps into the reusable bottle.
According to Puracy co-founder and CEO Sean Busch, the Clean Can ticks all the sustainable packaging boxes. It swaps out single-use packaging with a reusable solution; it uses a plastic-free, recyclable refill; it is aesthetically pleasing; and it allows consumers to "Crack, Snap, and Clean" in as little as 10 seconds, eliminating the hassle and mess of existing refill systems, which in turn, lowers the barrier to entry for consumers.
A safer, more efficacious cleaning option
Puracy was founded in 2013 by Busch and best friend Paul Tracy to make effective, plant-based cleaning and personal care products that were gentle enough to use around their newborn daughters. Looking out over the cleaning products category, they observed that those brands that worked well contained caustic chemicals, and those that were safer for people and the environment lacked efficacy. To bring its products to market, Puracy worked with chemists to create plant-based formulas that were both hardworking and environmentally friendly.
From its initial product line of surface cleaners, laundry detergents, hand soap, and dish soap, Puracy has grown its portfolio to include personal care, baby care, and pet products. According to the company, every Puracy formula is at least 98.5% natural, with many of its products containing an even higher percentage of natural ingredients. Puracy products are sold on its website—either as a one-time purchase or on a subscription basis—on Amazon, and since 2018, in 500 Target stores nationwide.
---
---
According to Busch, one of the factors that differentiates Puracy from other plant-based home-care brands is the fact that it is a digital native brand, with most of its revenue still coming from online sales. This has allowed the company to engage in one-on-one communications with its customers. "We have a really close relationship with our customer base and have really followed the evolution of what their tastes look like over the years, and what makes them tick," says Busch. "And that's how we got to the Clean Can."
Aha! moment changes refill strategy
Puracy's first foray into refillable/reusable packaging came early in its history. In 2014, it introduced a hand-soap refill, packaged in a plastic bottle. Says Busch, "The response was almost instantaneous of, 'Hey, this is great, but it's just more plastic.'"
More successful was the next iteration, a hand-soap refill in a flexible pouch launched in 2015. "It was a huge hit," says Busch. "Within a year, it took over sales in terms of hand soap, with more people purchasing the refill than the bottles. We realized we were really onto something, so we started to offer the flexible refill pouch for other products."
But in 2018, consumer adoption of refills capped out at around 60% to 65%, despite the fact that they were, on average, 20% cheaper on a per-ounce basis and reduced waste by 90% versus the product in the bottle. "We really tried to incentivize people with their wallets, but we found they just weren't adopting," says Busch. The reason, Puracy learned, was the time-consuming and messy process for consumers of having to refill their empty bottle with pouched product—sometimes in the midst of cleaning. "There's this huge friction point that it creates in everybody's life, and these young, fast-paced, busy families, they just don't have that time," says Busch.
---
---
In 2019, Puracy began work with product and brand design firm Prime Studio on a refill system featuring a reusable glass bottle and concentrate, but COVID interrupted their plans. In the interim, Busch had an Aha! moment when using a YETI can cooler. "I was grabbing a cold sparkling water, and I dropped it into a YETI cooler, where you basically unscrew the top and pop the can in and screw the top back on, and I said wow, perhaps we've been thinking about this in the wrong way," he says. "We tried to figure out concentrates and tablets and things like that, but there was all this resistance to that extra step. So I thought, 'What if we can get these products to people in cans?'"
Reengaging with Prime Studios in 2021, Puracy presented the concept of the canned refill. Design goals included creating a system that could be used for a range of product types, a refill package that was recyclable, and a solution that would eliminate the need to pour, measure, or mix, for a mess-free and hassle-free experience. Product development firm EVO also helped engineer the resulting Clean Can System, which met Puracy's design goals, while also being aesthetically pleasing and durable.
The base of the package, which has been designed to last up to 10 years, is a clear, shatter-proof PETG that provides scuff-resistance and durability. Because the bottle base is clear, consumers can easily differentiate the products inside through the labels on the cans. The top, made from high-density polyethylene, is dome-shaped with ridges that make it easy to grip. The only branding on the bottle is the Puracy logo, unobtrusively embossed on the lid.
The cans are supplied by Ball and offer the opportunity for Puracy to create special-edition labels, such as a holiday hand soap. The trigger spray is a Silgan Mixor, a component Busch says he always wanted to use for Puracy's products due to its high performance, but couldn't justify the cost of until this project.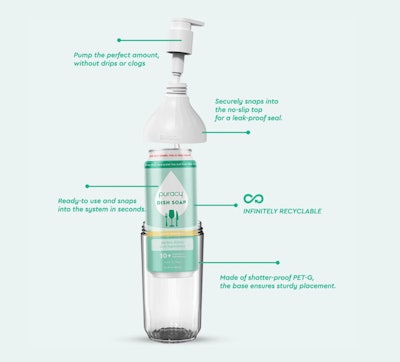 To prepare the refill, the consumer removes the "Do not drink" warning sticker from the lid of the 14.4-oz aluminum refill can, cracks the can tab to open the container, snaps the dome-shaped lid of the reusable package onto the top of the can, screws the trigger spray or pump dispenser onto the top of the lid with the dip tube inserted into the product, places the can into the clear PETG base of the refill system, and screws the cap onto the base.
One of the biggest engineering challenges of the project was the internal geometry of the lid. Prime Studios designed the component to include a number of tabs on the inside that snap around the outside of the can lid when the top is screwed on, ensuring no product leaks from the can during use. "The underside is really the bread and butter of the product," says Busch. "That actually took a lot of work in terms of how many tabs, how wide are they, how thick are they, what is the resin, the seals underneath, to make sure that when the top is tightened down, you can drop the package or shake it, and there will be no leakage."
Busch's goal is to convert all of the company's packaging to the Clean Can System. The first product to be launched in the packaging was its Everyday Surface cleaner in April 2023, followed by its stain remover, dish soap, and laundry detergent. With the first launch, Busch says the company is betting big on the Clean Can. "We're removing all of our plastic bottle surface cleaners from the market for this launch in perpetuity, because we're betting on this," he says. "Surface cleaner is actually the first product we ever sold, and it's been one of our most popular products since day one. And now, we are effectively forcing people to adapt to the new system."
Puracy Everyday Surface Cleaner in the Clean Can System is available as a Starter Set, with the bottle and one refill, for $9.99; a one-can refill is $3.99. PW
Companies in this article