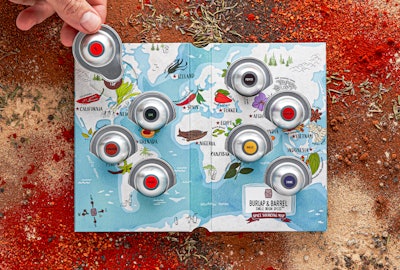 For home chefs on the go, single-origin spice company Burlap & Barrel has created a clever and compact travel sampler kit, the Spice Passport, that features a selection of its bestselling products from around the globe in a handy, portable booklet-style package. The kit craftily mimics a passport in appearance that, upon opening, displays a playfully illustrated world map, with spice samples packaged in recyclable aluminum pods slotted into the card according to their country of origin.
"We created the Spice Passport as a travel sampler kit, so you never have to eat bland food on the road again," says Burlap & Barrel co-founder Ethan Frisch. "It's perfect for spicing up your meals when you're visiting relatives, cooking in other people's kitchens, and camping expeditions. A mix of sweet, savory, and hot spices, the kit includes eight of our most popular spices and will set you up to cook thousands of different cuisines."
Based in New York City, Burlap & Barrel was established in fall 2016 as a purveyor of single-origin spices and a Public Benefit Corporation. The company works directly with smallholder farmers in 23 countries, many of whom have never exported their products before. According to Frisch, the company differentiates itself through the high quality of its spices—a result of its thoughtful sourcing, small farmer partners, and the speed of its supply chain. "We're buying right at the point of harvest and importing immediately," explains Frisch. "So our spices are just that much fresher."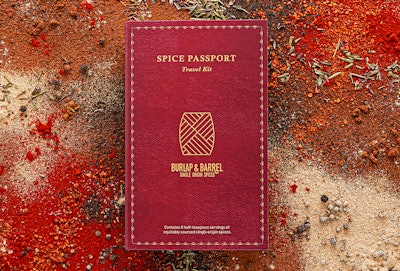 Eighty percent of Burlap & Barrel's spice products are sold direct-to-consumer through its own website as well as via other online retailers and at retail in a number of regional specialty chains and independent specialty stores around the country. One long-time customer of the company is its "spice buddy," Occo Spices, which uses Burlap & Barrel's products for its premeasured, single-serve spice collections in aluminum pods.
Occo is also based in New York City and was formed in 2018. Whereas Burlap & Barrel is focused on the sourcing of spices, Occo's strategy is around offering spices in a packaging format that allows consumers to experiment with new recipes and flavors while the spices are at their peak flavor, without having to invest in a full bottle that may thereafter sit unused in a cupboard.
"The idea is to give you just enough of what you need to try something new once, and then you can move on to whatever you want to cook the next night," says Occo co-founder Connie Wang. "One part of our mission is to find new ways to show the value of the packaging to consumers, helping them to realize that they can access really high-quality ingredients that may be off the beaten path without having to worry about cost or quality or sourcing. Because Occo and our partners can do a lot of that heavy lifting for them."
---
---
To develop the patented aluminum pod it uses for its spice selections, Occo worked with industrial design firm Fuseneo. The pod is modeled on those used by coffee companies for their Keurig-style capsules, but is much smaller, holding just ½ teaspoon of spice. The pod is bowl shaped with a flat bottom, allowing it to sit on a countertop, and features a wide rim and a tab that acts as a handle. An aluminum lidding film covers the pod and can be easily peeled back for access to the spice.
According to Wang, while Occo considered a plastic blister-style package, the aluminum pod better met its requirements for sustainability and product freshness. "We were making a single-serving product, so we didn't want it to be plastic; that just felt like we were putting more trash into the world," she says. "Instead, we thought aluminum was a great solution, A, because it's the most recycled and recyclable food packaging material, and also B, because it offers an impermeable gas barrier."
The aluminum package, coupled with equipment custom-built for Occo that provides modified atmosphere packaging, allows for a shelf life far beyond that of the three- to six-month shelf life of traditionally packaged spices. "The nice thing about the Occo packaging is that the spices don't expire, because they're protected from oxygen, light, and humidity," says Wang. "We are still doing testing on the oxidation rate of the spices inside the packaging, but we can confidently say [the shelf life is] at least three years with the packaging we have. And it's most likely longer."
According to Frisch, he and Occo co-founder Lisa Carson had talked for some time about collaborating on a product for Burlap & Barrel before beginning development of the Spice Passport in 2021. The passport concept, he shares, serves two purposes: "What do we carry with us when we travel? We travel with a passport," he says. "So the passport idea reminds consumers that they can take it with them when they travel, and it also ties back to our travels to work with famers all over the world to source our spices."
Independent designer and illustrator Seton Rossini conquered the task of translating this dual concept through the engaging and colorful artwork on the passport, which is offset printed. The paperboard sleeve, supplied by Curtis Packaging, measures 6.25 in. tall x 4 in. wide x 1 in. thick and is made of 18-pt SBS.
Since its launch in November 2022, Burlap & Barrel's Spice Passport has been so popular that, at press time, Frisch says the company had nearly run out of the product. The kit is priced at $9.99 (no shipping fee) for a single passport and at $54.99 for a six-pack.
Companies in this article