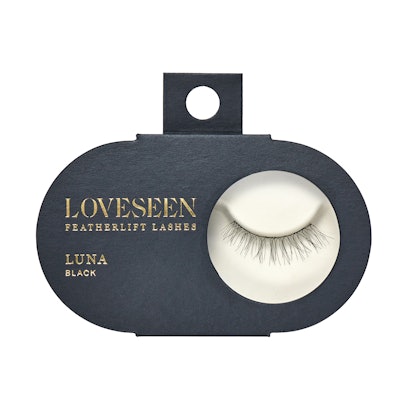 Innovative Beauty Group
Earth-conscious consumers can bat an eye toward Loveseen's new sustainable false lash packaging.
The new lash packaging, developed with the help of Innovative Beauty Group (IBG), features a tray made from 100% bagasse, or molded sugarcane pulp, an outer pack made with post-consumer recycled paperboard, and a clear PET window.
"Upon our first meeting with the IBG team and touring the facility, we decided it was imperative we create something different," Jenna Lyons, Loveseen co-founder, says. "From that moment, we set out to create our own custom lash tray–one that would stand out on shelves yet was a kinder solution to the environment."
The packaging was first designed for 12 different styles of Loveseen lashes, with adjusted artwork and bagasse tray structure to fit each variety, says Alexandra Michelem, key account director at IBG.
It has since been expanded for use with 14 styles, with a cotton cord from the original design removed "to reduce material usage," Michelem says.
The package avoids the use of glossy or metallic ink decorations to aid recyclability. The on-pack writing is three-color offset printed over dyed paperboard material. The package is recyclable upon removal of the PET window at the top of the packaging.
To communicate the package's sustainability attributes to the consumer, the back of the package includes a Leaping Bunny logo to signify animal testing-free certification, as well as a recyclability logo and recycling instructions.
"The development process required several months of strategic innovation, sampling, and redesigns to get the brand's debut packaging just right," Jennifer Raphael, CEO at IBG North America, says. "The final design is not only elegantly crafted, but 98% plastic free–with the goal to achieve 100% in the near future."
Reaching that 100% plastic-free mark will require removing the PET window. Michelem says Loveseen and IBG have not decided on a replacement yet, but potential picks include a clear recycled or recyclable material or fully removing the window. The new design and material will hit store shelves about 12 weeks after selection and approval, she adds.
The new lash packaging is available online at Loveseen.com and at Target.
Companies in this article