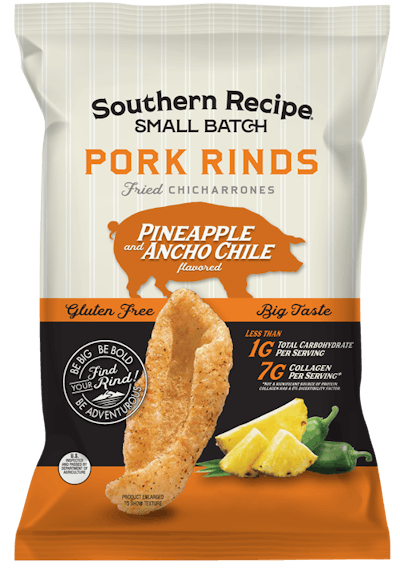 Southern Recipe Small Batch
Southern Recipe Small Batch's new package design addresses new consumer priorities while continuing to attract its current base.
The Ohio-based CPG refreshed its full pork rind lineup's design, totaling seven distinct packages. The redesign aims to improve brand recall and highlight key product features that attract a wider audience, a Southern Recipe release says.
"The humble pork rind deserves to be elevated, and that's exactly what we're doing with this brand refresh," Mark Singleton, Vice President of Sales and Marketing for Southern Recipe Small Batch, says in the release.
This redesign addresses a greater consumer focus on dietary benefits, attracting an audience beyond the pork rind category's typically male base. "Shoppers are finding our products as a low carb and Keto-friendly option," says Kathryn Amatriain, director of marketing at Southern Recipe parent company Rudolph Foods. "With this new shopper base, we now have more females buying pork rinds."
The redesigned packaging attracts this new consumer with prominently displayed dietary claims, including a gluten-free mark, collagen content, and low carbohydrates per serving.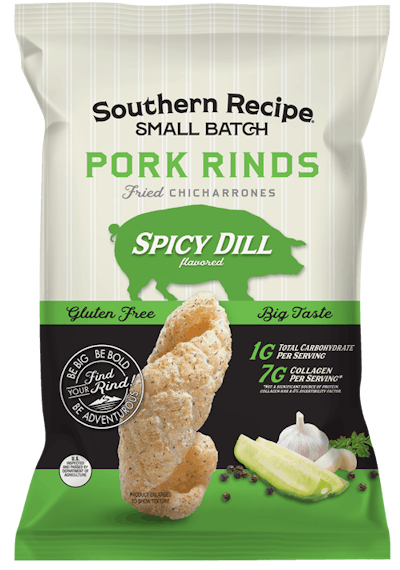 Southern Recipe also found through consumer testing that flavor is the leading drive to purchase for fans. With that in mind, the product's flavor description was made the central message on each pack, placed directly over a prominent pig silhouette with flavor imagery below.
Further consumer testing showed the brand's previous logo design and placement resulted in lower brand recall. Considering that feedback, the logo was made larger and bolder with a sharp color contrast, and placed at the top of the pack's messaging hierarchy, says Amatriain.
The product name "Pork Rinds" and Spanish translation "Chicharrones" are featured directly below the brand name on each pack, with a goal to make Southern Recipe Small Batch "synonymous with the pork rind category," Amatriain says. The placement also aims to increase awareness of the pork rind category as a snack option.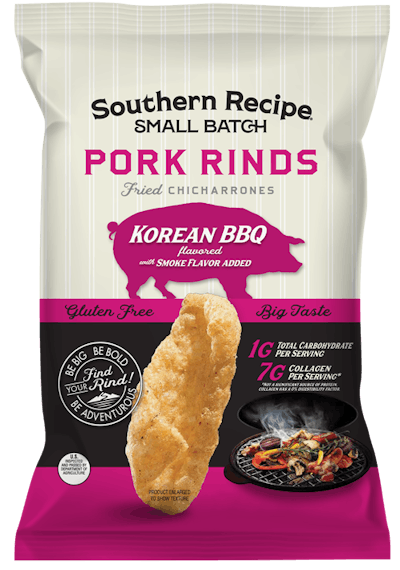 This combination of design adjustments, Southern recipe claims in the release, defines the brand as "the pork rind for every shopper."
Southern Recipe Small Batch's pork rinds are available individually or as a single-serve variety pack, featuring six units of the brand's top three flavor options. No material changes were made through the package redesign, maintaining the bag's multilayer metallized film and polypropylene design. The new packages are supplied by Cyber Graphics and flexographically printed in eight colors by Overwraps Flexibles.
The brand's new pork rind design can be found at grocery retailers across the U.S., including Kroger and Kroger banner stores, H-E-B, Meijer, Food Lion, and Safeway/Albertsons.
UPDATE, 1/9/23:
Southern Recipe Small Batch received two awards for its package design in November 2022, celebrating the brand's core pork rind package redesign, as well as its new Pop-at-Home Pork Rind Pellets packaging, a company release says. The brand's packaging, conceptualized by Cyber Graphics, was recognized in Graphic Design USA's American Package Design Awards.
"We're thrilled to be acknowledged for our package design," Amatriain says in the release. "We continually strive to be known as the category leader, and our package design's ability to communicate to consumers and pop off the shelf is just one way that we strive to do so."
Companies in this article