Slice Design
U.K. CPG Gazebo Fine Foods' line of meals will soon feature package design that draws from the same street food inspiration as the food itself.
"The designs are bright, appealing, and modern but incorporate our heritage and the traditions behind our brand," Sarah Hardy, Gazebo Marketing Manager says. "We are excited to roll the products out to the market over the coming months and see the impact of this new look and feel."
Inspired by the contemporary urban street markets from which many of Gazebo's meals originate, the package's bold colors and patterns are meant to "bombard [consumers] with all of the sights, smells and culture" these markets offer, according to a release from U.K.-based Slice Design, who partnered with Gazebo on this project. The design was initially created for three flavors of samosa with plans to expand to other products.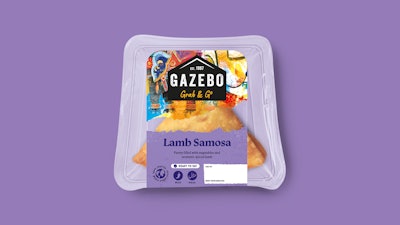 "Peeled-off posters, paint spray, and graffiti capture the modern urban environment and evoke the different layers of culinary expertise, discovery of flavors, and decades of experience that go into creating the most authentic street food," Slice Design Founder and Director Alan Gilbody says in the release.
The new design emphasizes Gazebo's long-standing specialization in authentic Indian street food, featuring an "EST. 1987" tag included with an enlarged logo, says Slice Design Senior Client Manager Charlotte Burrows. Further down the label's messaging hierarchy are a large product name and icons to communicate benefits and dietary requirements to the consumer.
The pack format consists of a clear thermoformed polypropylene tray topped with a film lidding. The labels are UV flexographically printed using seven color stations, supplied by U.K. label manufacturer Advance Labels. The tray is widely recyclable, but the film lid and label are not recyclable.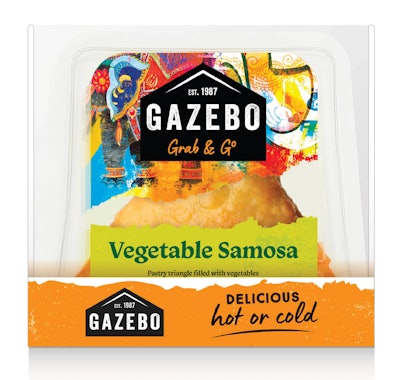 Secondary packaging for the samosas involves a printed paperboard carton that follows the same design language as the primary package.
The redesigned packages are set to launch in several U.K. grocers, and are already on store shelves at Budgens, Londis, and Spar. Gazebo samosas can also be found in WHSmiths travel stores at airports.
Companies in this article