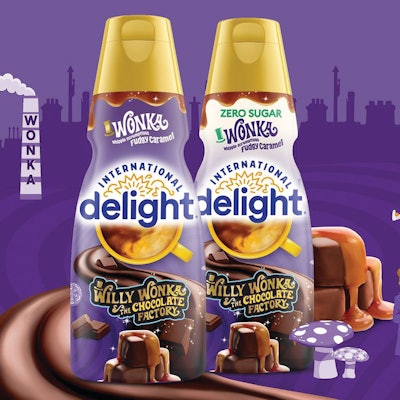 Along with this partnership and limited-time flavor, the company unveiled a new package and logo, signaling a redesign that will soon be applied across its product range.
The new International Delight bottles are composed of 100% recyclable and HDPE, the cap is PP, and the label sleeve is PETG, all commonly recyclable materials. On a sustainability note, Olivia Sanchez, Vice President of Marketing, International Delight, says the company always encourages consumers to recycle properly. At Danone, the company is committed to having 100% of its packaging be reusable, recyclable, or compostable by 2025.
The package design was led by the internal design team at Danone North America. And in true Willy Wonka fashion, International Delight hid 10 coveted golden tickets on bottles of the new limited-edition creamers.
"There was no better time to introduce our new look than with the launch of our new Wonka Whipple Scrumptious Fudgy Caramel Creamer," Sanchez says. "Willy Wonka and his confectionery creations are bold and whimsical, so it was easy to incorporate the franchise's iconic and magical aesthetic on our new product."
The "golden tickets" were applied to the bottles as stickers and placed in hard-to-find places for consumers to uncover.
"Obstacles come with every design challenge, big or small," Sanchez says. "For this specific limited-time offering, we wanted to be sure we were mindful of production and the complexity of adding the sticker, while also creating the excitement around finding the golden ticket on our package, just like in the original Willy Wonka movie."
International Delight is using this promotion to offer an advanced look at new packaging with dynamic, flavor-forward photography and a sleek logo upgrade. The new look begins with these Willy Wonka-inspired creamers before it is rolled out across the entire portfolio in 2022.
International Delight leverages yellow as a key color choice for the brand and new package, which Sanchez says allows consumers to always feel connected to International Delight. Furthermore, the yellow lines featured in the new logo are made up of the sun, peaking through the clouds, and a music note to represent that moment of harmony, brightness, and joy that International Delight brings to a coffee drinker's day, the company says.
"As we looked toward a new design, we want to ensure that we were staying relevant to our current consumers, but also evolving our brand to appeal to the next generation of coffee creamer fans," Sanchez says. "Millennials and Gen-Zer's are constantly experimenting with different creamer flavors to get to that perfect cup of coffee. The objective of this redesign was to help modernize the brand while staying true to our core values: joy, flavor obsession, self-expression, and fun. We aimed to create a brand identity system that expresses International Delight's vision for everyday delight by leading the category with bold flavor and celebration."