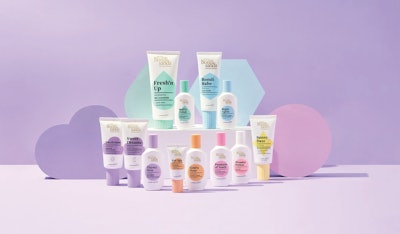 Last November, the Australian brand ventured from sun-specific products into the skincare market and chose Texas-based Quadpack to develop the packaging for its new Everyday Skincare Range.
The challenge during product development, which took 18 months, was to offer innovative and environmentally friendly packaging without compromising the formula and functionality of the product.
"We wanted packaging that sets us apart from other skincare brands while staying true to our brand value, look, and feel," says Blair James, CEO and co-founder, Bondi Sands. "Quadpack offers innovative packaging solutions and pushes the boundaries in what can be achieved in packaging."
The range uses PP for rigid bottles and all caps, as well as flexible five-layer tubes with PCR content, depending on the application. Both constructions are 100% recyclable. The decoration techniques used are silk-screen printing and hot stamping. Bondi Sand's Everyday Skincare product packaging differs from that of similar products because the closure mechanism doesn't use springs or other non-recyclable elements. This makes it easier to recycle because it doesn't require customers to pull apart different packaging elements to discard the products.
"Each of our products is marked with a Mobius loop to identify its recyclability, alongside a 'Made with Recycled Materials' icon to educate consumers on our efforts to reuse materials as part of our ongoing sustainable efforts," James says. "From point of sale to marketing communications, we've made it very clear that our entire range has been packaged in fully recyclable packaging that customers can confidently place into the recycling bin once finished."
Another challenge the brand faced is that suncare and skincare product development follow disparate legal requirements. This means choosing materials that are suitable for both the formula and providing a positive user experience for customers, James says.
"Formulas are important when developing product packaging, where each product formulation can follow different processes to ensure functionality and ease of use," James says. "For example, serums and sunscreen aerosols may both follow legal requirements to ensure functionality, but the extent of these processes are truly determined on the formulation and best usability experience."
The five-layer construction of the tube ensures perfect sealability and formula protection so that the product remains in optimal condition, according to Isabelle de Maistre, head of product communications at Quadpack. The PE tube has a central layer of ethylene vinyl alcohol (EVOH), which acts as a barrier against oxygen, moisture, and migration while extending the shelf life of the product.
"One of our key focuses when developing new products is to consider sustainable materials and practices," James says. "Our commitment is to have fully recyclable packaging across all our products and have packaging made from recycled materials by 2025. We worked alongside Quadpack to produce eco-friendly packaging that wouldn't force consumers to compromise on the effectiveness or experience of their products."
Being a new category for the brand, Bondi Sands wanted to explore different colors and textures for the packaging that it hadn't considered for its other products. There are 12 products within the new skincare line, which are divided into five categories that are coded with different shapes and colors so that their target demographic—Gen Z and Millennials— can easily shop the range and tailor products to their existing skin routines, according to James.
"These consumers drive beauty trends across social spaces and look for a skin-deep experience when buying into beauty, preferring to enhance their natural features rather than conceal them. Knowing how extensive the skincare beauty market is, and how educated our consumers are in the skin space, we wanted to ensure simplicity in range navigation and really thought through each color and shape to segment our products into categories. These shapes and colors bring our creative vision to life, setting us aside from other skincare brands on shelves," he says.

Companies in this article