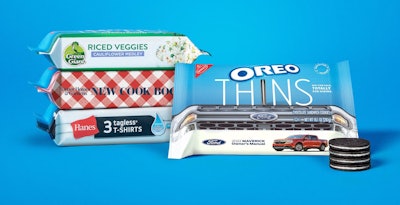 Oreo produces over 40 billion cookies each year, but only 3,000 packages of Oreo Thins were made available for the "Thins Protection Program" social media sweepstakes, which was held in July. The campaign partnered with Green Giant, Ford, Hanes, and Better Homes & Gardens to create packaging that looks unlike the traditional cookie packaging and can be hidden in plain sight.
Camo package designs included an owner's manual for the 2022 Ford Maverick truck, Green Giant cauliflower riced veggies, Hanes men's t-shirts, and a BHG cookbook, made to riff on the fact that many parents apparently hide their treats from the kids (or others) in order to get a chance at eating them. Hiding them in the freezer, the glove box or even on a shelf in plain sight was a unique marketing campaign that got people talking about where they hide their own Oreos.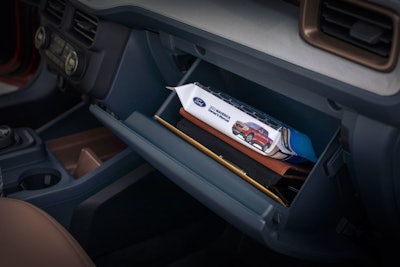 Fans were asked to post creative hiding spots for their Oreo Thins, to enter the sweepstakes and get a free package while they lasted. One winner was chosen for a $25,000 grand prize. Many big brands like Ikea, Home Depot and Xbox also jumped in, with creative posts of their own hiding spots.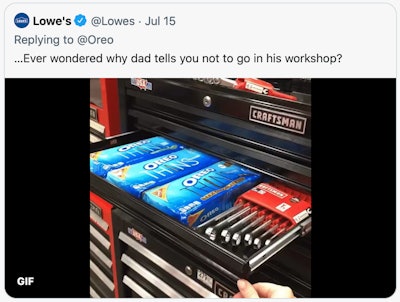 Oreo has a strong fan base, with over forty billion followers on its Facebook page alone, and social media platforms were abuzz with posts about the #THINSProtectionProgram packaging. Even celebrity fans joined in to comment, like Pioneer Woman Ree Drummond who asked, "where have these been all my life?"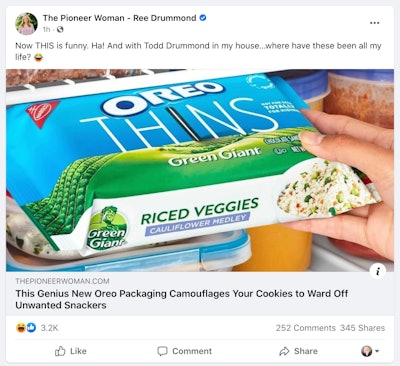 PACK EXPO Las Vegas and Healthcare Packaging EXPO (Sept. 27-29, Las Vegas Convention Center) will reunite the packaging and processing community. With over 1400 exhibitors, no other event in 2021 will bring together a more comprehensive gathering of suppliers offering new products, technologies and solutions. Attendee registration is now open.