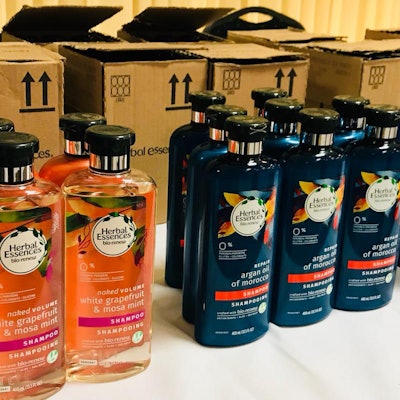 Procter & Gamble has introduced tactile notches on the PET bottles of its Herbal Essences bio:renew line of shampoos and conditioners so that consumers with impaired vision can easily differentiate shampoo from conditioner when in the shower.
"Our goal at P&G is to start a conversation around accessibility in packaging design," says Sumaira Latif, Special Consultant for Inclusive Design, P&G. "By doing this, we can help more companies to produce products that can be used and enjoyed by everyone, regardless of their circumstances."
Simple tasks--like telling the difference between bottles of shampoo and bottles of conditioner--can be a real challenge for those living with a visual impairment. Even for consumers with poor or reduced sight, it can be difficult to identify products while in the shower or bath, where sight aids such as glasses, contact lenses, or magnifiers are not typically used. P&G recognized this issue and set out to find a solution.
"It may seem like a small thing, but there are hundreds of these little things that visually-impaired people like myself have to spend time checking and rechecking each day," continues Latif, who is registered blind herself. "If you want to be independent, if you want to be confident, you don't want to be asking family members 'What bottle is this?' especially in such a private location as a shower."
Using Braille may seem like a solution here, but Latif recognized that a very limited number of people who are blind or visually impaired are Braille users. "Most people with visual impairments cannot read Braille – it takes months, if not years to learn, and really you have to start young to develop the sensitivity. Most people develop visual impairments in later life, and Braille is no longer an option," says Latif. "It was important that we invent a feature that could be universally recognized and would work for people who haven't had the opportunity to learn Braille."
With her colleagues at P&G, Latif came up with the innovative idea of including tactile notches on the bottles to enable them to be easily differentiated by touch. To keep design costs and production impacts to a minimum, Latif and her P&G colleagues sought a Domino laser solution where the notches would be made on the packaging line rather than during the blow molding process. Using a laser coder to etch the markers during production seemed like an optimal solution. But the team knew there would be complexities involved in marking the bottles without compromising the packaging or negatively affecting production efficiencies.
"We process hundreds of bottles a minute on each bottling line," notes Latif. "Changing a manufacturing process is complicated when you're dealing with those kinds of quantities. We needed a solution that would fit into our existing production lines without having a negative impact on production line speeds."
"We approached several different coding and marking suppliers with the brief, and Domino stood out as the only supplier dedicated to working truly collaboratively with us to find the most appropriate design and solution for creating the markers," says Kevin Higgins, Engineer at P&G. The decisive factor was Domino's scientific expertise and highly collaborative and iterative design testing to uncover the best solution for the inclusive bottle design. The P&G team were invited to visit Domino's specialist laser testing labs in Hamburg, initially to discuss the requirements for the project, and then again for a two-day working session to identify the best possible solution.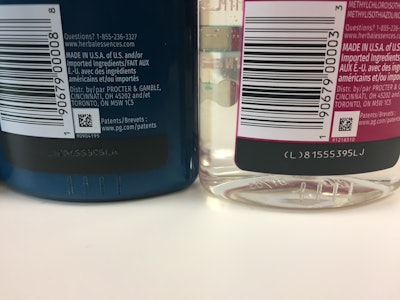 Options considered
"The initial brief from P&G was for coding the bottles with triangle, circle, and square symbols," says Dr. Stefan Stadler, Team Lead at the Laser Academy. "From initial testing it was ascertained that these symbols would be difficult to distinguish by touch, so we presented some different options that could be more easily differentiated." The chosen design features a row of raised lines on the bottom of the back of the shampoo bottles with two rows of raised dots in the same place on conditioner bottles.
The key to the project's success was in ensuring that the laser did not puncture the bottles or weaken the barrier strength of the substrate. The Laser team identified the bottom of the bottle, where the plastic is at its thickest, as the best location for the tactile labeling, where it would be easily identifiable without compromising the integrity of the packaging.
Domino's Laser team used a 3D microscope to analyze the etching depth across nine different colored PET bottles with two different coding modes: moving and stationary. The absorption rate of the colored bottles was measured using a FT-IR spectrometer to ascertain whether there was a correlation between coding depth and plastic color.
"We discovered that laser absorption at the tested wavelengths is independent of the color of the bottle," says Stadler. "The same solution could be replicated using different colored PET, which means that a wide range of product brands could adopt this, regardless of the color of their bottles. This means that it could be an easy step for other manufacturers to follow P&G's lead and adopt the same marking method."
Read more about P&G's overall strategic approach to packaging.
To ensure that the laser solution would not compromise the product packaging, Domino's Laser team spent more than a week testing the parameters of the laser to establish the most appropriate specifications. A 3D-profiling report detailing the testing process reassured the P&G team that introducing this laser solution would not affect the integrity of the product at any point during the supply chain.
"Bottle integrity is of the utmost importance to us because this is the first thing the consumer sees and the last thing they touch," says P&G's Higgins. "The bottle not only has to look good, it also has to perform throughout its entire life, so any compromise to its integrity was a concern for us. Through measurements and modelling, we were able to find parameters that not only delivered the tactile feel we wanted but also did not compromise our bottle integrity."
To ensure the new stripes and circles approach would work for consumers, P&G presented the newly-coded Herbal Essences bio:renew bottles to the Royal National Institute of Blind People (RNIB) in the UK for consumer testing. A follow-up focus group with visually-impaired consumers overwhelmingly approved of the new inclusive bottle design.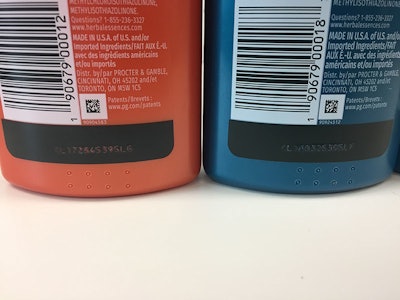 Following successful consumer feedback, P&G began using Domino's laser solution to mark Herbal Essences bio:renew shampoo and conditioner bottles at various manufacturing plants in the US and at selected contract packers from January 2019. The inclusive bottle design was a hit, receiving many positive reviews from the those living with partial or complete sight loss, with active bloggers and spokespersons for the blind community sharing their experiences online.
On 4th May 2020, Latif took part in a webinar hosted by the people behind BE MY EYES, an innovate web-based application for blind or visually impaired people, which enables users to be connected to volunteers via videocall who can assist with visual tasks. As part of the webinar Latif spoke about the challenges faced by blind and visually impaired people at home, and in the workplace, and how more companies are working to make their products accessible to those with disabilities – including P&G with their new coded bottles.
"I was happy to hear about the new-and-improved, tactile shampoo and conditioner bottles," writes Blogger and BE MY EYES user Tia Wojciechowski, who sat in on the webinar. "Almost all shampoos and conditioners are in matchy-matchy twin bottles. I guess people like it better that way, because it looks cuter in their bathrooms. Now there are bottles that are cute and tactile!"—
PACK EXPO Las Vegas and Healthcare Packaging EXPO (Sept. 27-29, Las Vegas Convention Center) will reunite the packaging and processing community. With over 1400 exhibitors, no other event in 2021 will bring together a more comprehensive gathering of suppliers offering new products, technologies and solutions. Attendee registration is now open.