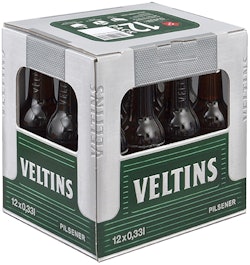 This is a dynamic that the Veltins Brewery considered when designing a new pack for its 12-pack of 0.33 L pilsner bottles. To ensure that its beers stand out on the shelf or in the cooler, Veltins chose a Fusion Topliner from paper-based packaging supplier Sappi.
Verltins' new packaging solution was developed by the retail display manufacturer and designer Knappe + Lehbrink Promotion GmbH, of Bünde, Germany. The Westphalian company says it chose the Sappi corrugated board liner because it significantly outperforms conventional GD liners in many respects. For example, it achieves the same material strength with low grammages [mass per area of paper measured in grams per square meter].
"We compared Fusion Topliner with the previously used Topliner paper," says Jochen Rudat, project manager at Knappe + Lehbrink. Sappi's Fusion Topliner achieves the same material strength with a grammage of 180 g/m2 as a 230 g/m2 GD2."
In other words, the customer saves between 25 and 30% grammage compared to recycled grades. This means increased efficiency in terms of energy and space, resulting in significant cost savings and packaging weight reduction.
With its high compression strength, Fusion Topliners offer stability, excellent grip, and durability, giving the customer a sense of premium value. It is also considerably more elastic than other containerboard papers thanks to its optimized fiber structure.
"The material remains perfect even after folding and folded edges no longer tear," Rudat says.
Package development in this case began with the technical design of the carton material. The main challenge involved creating a corrugated pack that would offer reliable load-bearing safety and resilience despite the damp, cold environment it would encounter in the refrigerated section.
Thanks in part to the of premium, sustainably sourced virgin fiber, the new beer pack not only meets the food safety requirements, it also offers protection against all of the physical challenges the packaging would be expected to face, as well as delivering a pleasant sensory experience for the consumer as they handle product. The surface quality also made it a good choice to further improve brand communication at the POS, according to the company.
Applying the striking silver-green packaging identity to the exceptionally smooth and consistent double-coated surface of Fusion created a high level of brightness, offering faithful color reproduction that results in a stunning finish that consumers will find hard to ignore.
The end result is a smooth surface aligned with brilliant color, that reflects Veltins' own philosophy and follows the trend towards a minimalist, yet stylish, packaging design.

Companies in this article