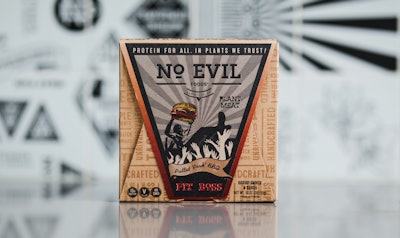 Said to have been born from a "self-sufficiency adventure," No Evil Foods' plant-based meat products can now be found in mainstream and specialty retailers across the country in a package design inspired by its farmers' market roots. The line's origami-like carton—the material chosen for its sustainability—echoes its butcher-paper past, while its tongue-in-cheek graphics make the products approachable while still conveying the brand's mission to improve the health of both of consumers and the planet.
According to Sadrah Schadel, co-founder and COO of the Asheville, N.C.-based company, No Evil Foods began with her and partner Mike Woliansky's efforts to grow and make as much of their own food as possible as well as minimize consumer waste. "People say that change starts in your own backyard, and for us, it literally did," she says.
From growing foods for their own needs, Schadel and Woliansky advanced to supplying local restaurants with organic produce, meanwhile experimenting with season extension techniques and various methods of food preservation. The duo ultimately focused their attention on producing plant-based meats having a similar taste and texture experience to animal proteins that use clean, recognizable ingredients and simple processes.
In 2014, No Evil Foods began selling its plant-based meats at the local farmers' market, with a clever butcher shop display that included "white aprons, plastic meat cleavers, oversized, stuffed felt meats, and simple butcher-paper packaging," Schadel shares. "We didn't have a line of sight into the growth we would experience, and at that time, being sold at grocery stores was not part of our vision. We'd keep our Plant Meat in a cooler, and when a customer purchased one, we'd wrap it in butcher paper on the table right in front of them, sealing it closed with a black-and-white label. It was fun, and it fit the vegan butcher theme, but it was also utilitarian, because we didn't have a color printer."
---
See it Live at PACK EXPO Connects Nov. 9-13: Want to learn more about innovations in packaging materials and containers, including new monolayer films and biopolymers for sustainable applications? Join us at PACK EXPO Connects to hear from a range of suppliers. Preview the Showroom Here.
---
Very soon after debuting at the farmer's market, Schadel and Woliansky's products were being sold at Whole Foods nationally. For three years as No Evil Foods expanded throughout the southeast and beyond, the butcher-paper wrapping remained. But ultimately a more sophisticated package was required that could face better on the shelf, better withstand transportation as well as refrigerated and frozen settings, and communicate more of the company's brand voice and personality.
To replicate the "unwrapping" experience enabled by the butcher paper, No Evil Foods brainstormed with a local designer to develop a carton with a unique unfolding design "that welcomes, interacts, engages, and educates the consumer at every step," Schadel explains.
Functionality was not the only consideration for the packaging material though. The company also wanted an eco-friendly material with a sustainable end-of-life story. For that it chose WestRock's unbleached, uncoated two-ply virgin paperboard, WestRock KraftPak, which is both backyard compostable and recyclable. In addition, No Evil Foods is using plant-based ink and water-soluble adhesives. Primary packaging for the plant-based meats is either "a high-barrier, BPA-free plastic casing or a plastic thermoform pouch," Schadel says.
---
See: Plant-Based Food Market Takes Root
---
For its new packaging graphics, No Evil Foods collaborated with Michael Kravit, a designer who has also worked on brands such as Honest Tea and Revolution Gelato. The vision for brand, Schadel shares, came from the craft brew industry. "I drew some heavy inspiration from how craft beer creates a full identity for their brews. From the name to the artwork, craft beer creates entire personas for their brews, and you don't see much of that in the food work," she says. "When it came to our messaging, we wanted to be clear about our mission and felt that having a strong voice was important, but it needed to be balanced with lighthearted tongue-in-cheek tone, to keep it fun and approachable."
Playful names for the product varieties—Comrade Cluck chicken, El Capitán chorizo, The Pardon turkey, and The Stallion Italian sausage, to name four of the six—are complemented with equally whimsical illustrations. For example, Pit Boss Pulled "Pork" BBQ features an illustration of a man crowd surfing through a mosh pit while holding aloft a giant pulled pork sandwich. As the consumer opens each flap of the carton, environmental messages are revealed, such as "Clear the Air, Eat Plant Meat!"
Says Schadel, "We hear so many great things about our packaging. The natural feel and organic nature of the paperboard seems to really connect with our customers. The colors are a little bit brighter, and the artwork is more in your face than other brands in our category. There's a sense of excitement conveyed through it which speaks both to our goal to change the game when it comes to plant-based meats, while also speaking to our history as makers.
"And once the customer opens up the box and becomes aware of the environmental callouts tucked inside, they become a part of a powerful movement that affirms the positive environmental impact of their food choices.
"Our packaging is different in physical design, messaging, and our approach to artwork. I think buyers like to see a brand taking risks and they're eager to add something fresh to their sets."
Companies in this article