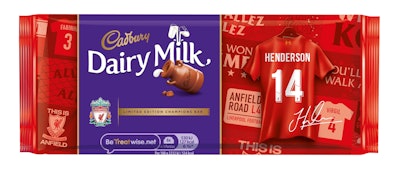 Cadbury teamed up with Liverpool Football Club, the most successful English team in European football tournament history, to send limited-edition Champions Bars to 50,000 fans as a thank you for their unwavering support throughout the 2019/20 season.
Using HP Indigo digital printing technologies each bar was created with a unique design – for a total of 60,000 one-of-a-kind Champions bars. This flexible packaging job was printed digitally on the HP Indigo 20000 Digital Press.
"This is a truly innovative way to elevate our brand and build stronger consumer connections with engaging collaborations and relevant experiences. It's been a fantastic collaboration between our internal experts, partners, and HP to bring this to life in such an iconic and impactful way," said Bryony McComb, Associate Director, Mondelēz International.
---
See it Live at PACK EXPO Connects Nov. 9-13: How 'Dual Focal Spot' X-ray Will Change Tall Packaging Inspection, by Mekitec LLC. Preview the Showroom Here.
---
The imagery of the campaign has very deep meaning for football fans, allowing Cadbury to drive buzz, excitement, and relevance. HP Indigo technology was the chosen solution for the campaign. HP SmartStream Designer variable data software was used to design a tailored flexible packaging canvas of iconic Liverpool symbols, phrases, and images set in the background of the Liverpool Crest or behind player's shirts, with all players being represented.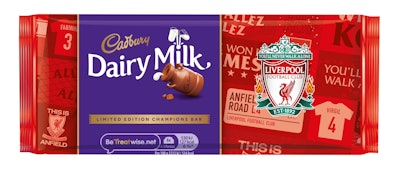 "In today's age of experience, personalization is driving consumers' purchase decisions and strengthening brand loyalty. HP Indigo's unique personalization and customization solutions are enabling brands to engage consumers and create new experiences during times when so many social and business interactions have gone virtual," said Haim Levit, general manager, HP Indigo, HP Inc.
Thanks to HP SmartStream Designer and HP PrintOS Composer variable design and variable data printing software, each Cadbury Champions Bar wrapper design is truly unique, created from collective elements that help define the club and create a visual story for the consumer. This result was achieved as follows:
Designs: A design pattern correlating to club chants, players, moments in history, and other unique Liverpool Football Club details with a total of more than 2000 design elements.
Texture: Each element has several textures that are applied to add depth the design.
Colour: Using digital printing allows for a greater color combinations and patterns.
A code was created to take into account all the elements, apply the rules, and tell HP SmartStream Designer where to put each element, to ensure each pack is unique and the same design element would never appear twice on the same pack.
HP SmartStream Designer has a host of creative tools such as HP Mosaic, HP Collage, and HP Frames and is an open VDP software that allows users to tailor their own solutions, making any design project possible. For this specific project a code was created to allow for all the elements.