Almost everyone has a can of WD-40 Multi-Use Product on a shelf or in their garage, but few may know the brand traces its origins back almost 70 years. In 1953, the Rocket Chemical Company set its sight on a challenging mission: helping rockets get into space. After 39 tries, scientists created the now iconic WD-40 Multi-Use Product, which would first be used to displace water and propel the Atlas missile into orbit.
And, while the WD-40 Multi-Use Product is a category-leading heritage brand, research indicated that the WD-40 Specialist line of professional-grade lubricants, penetrants, greases, cleaners, degreasers, and rust-management solutions launched in 2011 had an opportunity to be identified on shelf faster by end users. So to develop new packaging, clearly differentiate it from the base brand, and simplify messaging, WD-40 turned to New York-based branding agency JAM (Johnson And McGreevy, Inc.).
---
See it Live at PACK EXPO Connects Nov. 9-13: GMC Pro, an anti-diversion, anti-counterfeiting control solution by Atlantic Zeiser. Preview the Showroom Here.

---
After a global study of WD-40 Company's portfolio of products, the JAM team chose to leverage the visual equity of the base brand and ensure that consumers could quickly navigate the shelf.

"We identified two types of buyers: the tradesperson/professional, who knows what they want and shop by variant color, and the prosumer, who needs more information and cues. What did they have in common? All buyers located where to go in the store by the familiar blue and yellow of WD-40 Multi-Use Product," says JAM founder Nick McGreevy.

---
See it Live at PACK EXPO Connects Nov. 9-13: Is creating new unit loads cumbersome – easily build new patterns on the HMI, by Schneider Packaging Equipment Co. Preview the Showroom Here.

---
Every element for the WD-40 Specialist line is new—from typefaces, to icons, to a refined WD-40 brand logo. But color became the critical component of the redesign. "The black body and yellow caps were confusing consumers with the competition, so we elevated the reflex blue from the base products and created a new premium metallic blue that enhances the professional positioning," says McGreevy. The result is an improved brand block on shelf and a clear differentiation from the base brand as well as from its competition.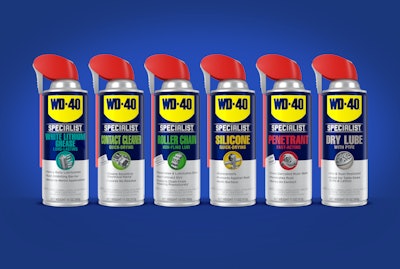 Product names were simplified, and bold graphic illustrations denote the main usages for each product. A matte varnish over the silver section of the can enhances the impression of quality and allows for consumers to easily read the benefit copy. A variant bar on the top of the back-panel aids in selection when products are stored vertically in a tool bag.

Says Steve Brass, President and COO at WD-40 Company, "This was an extremely effective collaboration. JAM is a no-nonsense, cut-to-the-chase type of partner. I am extremely proud of what we achieved together."
---
See it Live at PACK EXPO Connects Nov. 9-13: Eliminating Downtime / Increasing Productivity: Patented sealing solutions for form fill seal packaging machinery, by Lako Tool and Manufacturing. Preview the Showroom Here.
---
There are 36 SKUs in the WD-40 Specialist line ranging in size from 2.5 oz to 55 gal, and in spray, non-aerosol, grease tubes and bulk containers. JAM also created a 92-page Global Brand Book for both the WD-40 Multi-Use Product and WD-40 Specialist packaging as well as Company Brand Guidelines and the creative direction of the new WD-40 Specialist packaging marketing campaign leveraging the history of WD-40 Company.
---
Read about other recent package redesigns:
E-Shaped Carton Calls Out Environmentally Friendly Position
Updated Laughing Cow Conveys the Joy of Snacking
New England's Original IPA Gets a 'Wicked' New Look
---
Companies in this article