Specialty coffee roaster Fazenda of Dedham, Mass., has introduced a premium alternative to quick-and-dirty instant coffee brands in sachets. One of the first specialty instant coffees on the market, Fazenda's single-origin instant coffee is produced using a pioneering technology from Sudden Coffee, San Francisco, that "preserves fragile aromatic molecules," after which it is packaged in an airtight polypropylene tube that provides a shelf life of up to nine months.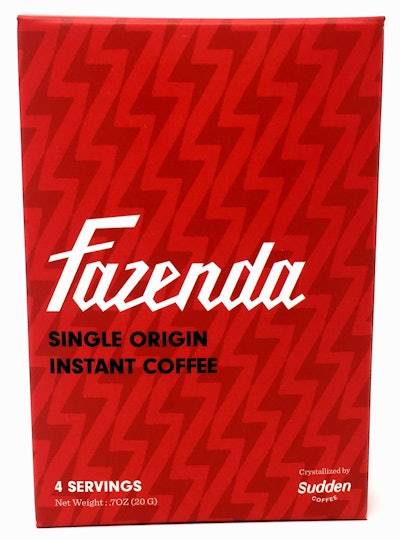 "We really believe in providing more access to specialty coffee," says Fazenda CEO Philip Schein. "Single-origin coffees give customers something to enjoy in a busy day. A lot of folks don't have time to brew coffee at home or go to a café. With our instant coffee line, customers can enjoy Fazenda coffees without any effort, anytime, anywhere."
The new product's price of $15 for a four-pack of 0.17-oz tubes reflects the quality of the sustainably sourced beans used for the product and the cutting-edge technology employed to brew it. Using a new "revolutionary method," Sudden brews the coffee much more gently—like a pour-over—freezes it, and then places it into a vacuum chamber to crystallize it. Says Fazenda, the technology captures fruity flavor notes without the bitterness "old-school" instant is known for.
Fazenda began looking at adding an instant coffee product to its portfolio of whole bean coffees and teas, sold online and to cafés, restaurants, bakeries, luxury hotels, and other high-end establishments in Boston and throughout the Northeast, in 2018. Recently, Schein notes, Sudden made its technology available to coffee companies, and in January 2020, Fazenda became the first on the East Coast to offer the product.
Fazenda's instant brand comes in medium-roasted Guatemala Perla Negra, which is "grown in the mountains of Chiquimula and Zacapa and is a perfect balance of sweetness and acidity," the company says. It is packaged in clear, recyclable, round-bottom vial-like tube with a screw-on cap that Schein says offers a number of advantages over multilayer sachets. "The oxygen barrier is one of the biggest functional advantages," he explains. "With pure instant coffee having no additives, oxygen exposure has the potential to destroy the coffee. The oxygen barrier makes it last for nine months, reducing wasted coffee. Packaging with pure paper doesn't have a barrier.
"The second advantage is that the tubes are recyclable. To contrast, foils used in traditional stick packs for sachets are not recyclable, as they use a thin layer of aluminum bonded to plastic. The third advantage is ease of use. It's not uncommon to pour instant coffee into a water bottle or small area; the tubes make it easy to pour without a mess."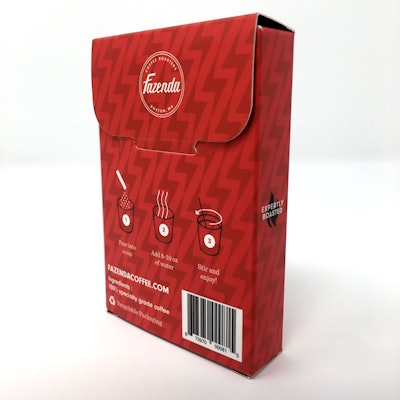 That being said, Schien adds that Sudden Coffee is working with customers to design new packaging options. "We know that they are constantly working on improving their environmental footprint and offering alternatives as soon as possible," he says. "Unfortunately, unless you are Coca-Cola, the immediate options are limited."
The tubes are sold in a four-pack tuck-type paperboard carton with the appearance and roughly the size of a deck of cards, printed with Fazenda's signature red color with a zigzag background color and the brand's logo in white, printed via four-color process. Also inside the carton is a card with Fazenda branding and information on the provenance of the coffee. A fold-out brochure from Sudden provides preparation instructions, information on its brewing process, and recipes. On the back are several suggestions on how the tubes can be reused: as a flower vase, a spice rack, or to hold travel vitamins.
Fazenda's Single Origin Instant Coffee is available online and in select Whole Foods Market locations, as well as several specialty grocers in the Boston area.