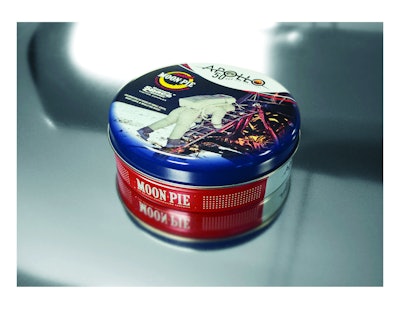 For a full week this past July, the Kennedy Space Center Visitor Complex (KSCVC) in Florida celebrated the 50th Anniversary of the Apollo Moon Landing. What better way to celebrate than with a chocolatey MoonPie in a collectable tin?
The KSCVC partnered with Independent Can and Chattanooga Bakery (known for its MoonPie brand) to create an appropriate treat in a commemorative tin to be given to visitors and VIP guests at all of the events through the week. The product was also featured at gift shops throughout the KSCVC and at the Apollo/Saturn V Center.
Using photos and graphics provided by NASA, and the MoonPie logo provided by Chattanooga Bakery, Kait Bischoff, marketing coordinator and graphic designer, Independent Can, designed the imagery and messaging for the 50th anniversary tin. The 4.75 in. by 1.25 in. drawn can would be manually filled with a chocolate single-decker MoonPie. A shrink overwrap was not necessary since the MoonPie within the tin was sealed in film at the bakery.
To make the NASA/MoonPie tin, blank sheets of steel were printed via flat sheet lithography. The Independent Can pre-press department made printing plates, laid out the design, and printed the sheets on a six-color printer. Printing is unique on tin-coated steel since it obviously doesn't absorb ink like paper would. A coating is required overtop the steel sheets to accept the inks. Operators apply a flood coat of white prior to the application of each of four printing passes, after which the steel sheets are baked in thermal oven to create a chemical bond for inks and coatings to adhere.
Each sheet is finished with a gloss varnish to protect the inks and coatings. Sheets are cut into strips, then are punched and drawn—all components are drawn from the single printed strips of steel, so operators must ensure the design doesn't distort while drawing. Finally, a curl is put on the edge of the lid and a bead and curl are added to the can body.
Independent Can organized manual filling of the wrapped MoonPies, and closed tins were layered, with protective slip sheets, into a bulk corrugated case for transport to the KSCVC.
"Our tins filled with MoonPies, an Apollo 11 50th Anniversary brochure, and commemorative pins were part of the gift bags given to visitors and VIP guests at all of the events," says Donna Sichette, marketing manager, Independent Can. "The MoonPie Apollo 50th tin will be part of The Kennedy Space Center Visitor Complex history. We tout the tin can as a collectible item that may increase in value over time. This made a decorative tin the perfect choice."