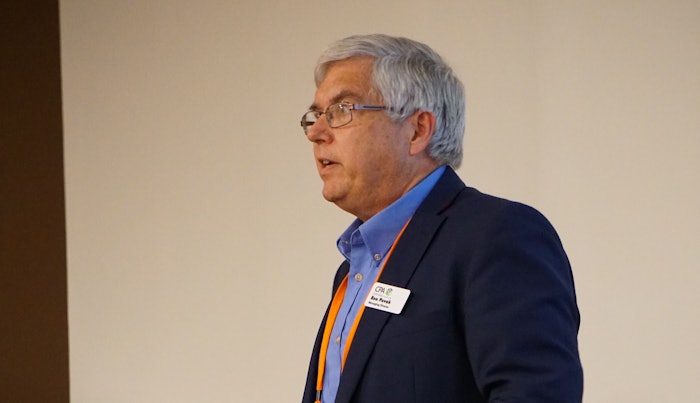 At the PMMI Roadshow held in Roswell, GA, June 6-7, and organized by PMMI, The Association for Packaging and Processing Technologies, Ron Puvak, Managing Director of the Contract Packaging Association, advised attendees on the changing retail/consumer landscape and how contract packagers/contract manufacturers can leverage these new realities to grow their business.
"A perfect storm of market forces, consumer trends, and radical technologies are putting incredible pressure on major food and CPG brands, driving new needs for sustainable competitive advantage," he said. "Increasingly they are turning to CP/CM partners for product, process, and packaging innovation."
Here are just some of the market forces, consumer trends, and radical technologies presented by Puvak:
1. The growth of North American food and beverage consumption: The expectation is that there will be 659.34 billion packs by 2022—a 3.1% increase from current levels. Volume consumption will reach 551.32 million tons per year in 2022. Packaged food and drink sales increased an average of 2.3% between 2012 and 2016, reaching 549.57 billion packs.
CPGs are looking for recyclable packaging materials and lightweighting of packaging. One consideration will be the impact of the availability of commercial, packaging-grade bioplastics. Consumers are looking for convenience and premiumization of experience, and they are willing to pay a bit more for it.
2. The dominance of bottled water and growth in beverage categories: According to Beverage Marketing Corp., bottled water is the biggest volume-share gainer, growing from 16.5% in 2013 to 22% (estimated) in 2018. The fastest-growing segment of the bottled water category is sparkling water. Dairy is still growing, but not traditional dairy beverages. Instead, non-dairy alternatives, such as almond milk, soy milk, etc., are gaining a foothold. In fact, Puvak said, the plant-based, dairy-alternative category is expected to have a 15% CAGR. Also growing are fermented health beverages, e.g., kombucha. A number of other niche categories, such as cold-brew coffee, probiotic drinks, functional beverages, CBD-infused drinks, and more, are being introduced as well. (See more information on the beverage market here.)
Given their niche nature, these products will represent smaller markets and fewer units, but higher value. "We as a consumer group are no longer happy with the same old, same old," said Puvak. "We want to be delighted every week, every month we want something new."
For the increasing beverage products market overall, packaging is a key trends enabler. "Packaging is in such a unique position to deliver to the consumer what they need, whether it's portion control, nutrient protection, single-serve, or other requirements," said Puvak.
3. The exploding cannabis market: Puvak began the discussion on cannabis by saying, "If you aren't considering being connected to that market in some way—some shape or form—guess what, you're going to lose an opportunity. And a lot of it is moving fast. The beauty of it today is that it's like the Wild Wild West. But two years from now, it's going to be a lot different."
The cannabis/hemp market in the U.S. is expected to be extremely attractive, he said, with some estimates placing it as high as $250 billion in the future. In 2018, the cannabis market was estimated at $10 billion. One big growth area is CBD oils used in products as varied as beverages and pet care products for medicinal purposes. Cannabis-infused beverages are a potential beer industry disruptor.
4. Prevalence of meal kits: When consumers go to the grocery store, they are not looking for groceries, said Puvak, they are looking for meals. Among some meal kits stats:
· Of those meal kits ordered online by meal kit users, Blue Apron gets the top ranking, at 64%.
· Some 78% of consumers—76% of nonusers and 78% of users—want, to some extent, grocery stores to develop meal kits they can purchase in stores.
· Sixty-eight percent of nonusers and 75% of users desire kits that contain a combination of local or private brands and well-known brand names.
· Meal kits have skyrocketed to $5 billion in sales.
· Amazon, Kroger, and even Coke are developing this market.
"A combination of packaging and technology are going to help us drive this market," said Puvak. One packaging technology facilitating the meal kit market is High Pressure Processing, which enables a much longer shelf life.
5. New technologies: Among them are digital printing and active and intelligent packaging. Digital printing is allowing for greater personalization and customization of packaging, which serves consumers' growing desire for premiumization of the product experience.

Audience member Nicole Johnson, Executive Vice President/General Manager at printing company Kala Packaging, shared how this technology is enabling CPGs to target packaging to regional markets or for special promotions, for example, with customized packaging that can bring in huge sales. "These CPG brands are used to razor-thin markets," she said. "So when you introduce a solution to them where they can charge four times the amount for a product, they're all over it. They are looking for the folks in this industry who can deliver the pieces to make that happen. It's just about moving fast." CP/CMs, whose business is built around agility, are in an ideal position to capitalize on this trend.
Re active and intelligent packaging, some technologies such as NFC (Near Field Communication) and AR (Augmented Reality) are also driving increased personalization and brand experiences, while others, such as active packaging, are providing greater food safety and convenience.
6. The growth of e-commerce for groceries: The e-commerce market is expected to grow from 16% to 26% by 2021; in regard to groceries, e-commerce could represent 20% of U.S. grocery sales by 2025. According to a survey cited by Puvak, 49% of U.S. consumers already shop for packaged good products online: 61% of millennials, 55% of Generation X, 41% of Boomers, and 39% of the Greatest Generation. However, only 7% of retailers and 22% of manufacturers believe they are ready. There are a number of delivery models, said Puvak, but they do not work for all packaging formats. Therefore, there is a need for new packaging formats optimized for e-commerce. "It's going to impact every one of us—from a machinery side, from a component side, from a packaging side, from a fulfillment procurement side," he said. "Those of you who are servicing Amazon, you know how that impact is occurring on a regular basis."
Other trends discussed by Puvak included SKU proliferation, sustainability, the needs of Gen Z, blockchain, and private-label brands.