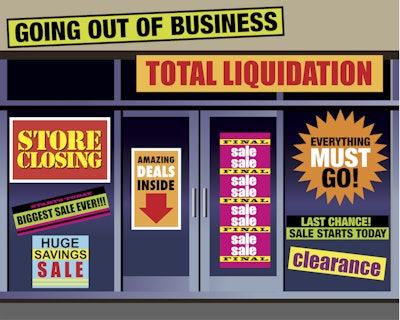 While a search of "retail apocalypse" might generate 8.9 million results on google, it is a myth, according to LeBlanc. Target has had the best sales results in ten years. In 2018 retail is expected to chart 4.5% growth here in the U.S. and 2% in Canada.
And there have been more store openings than closings, with over 3,000 new store openings in 2018. In fact, according to LeBlanc, the media focuses on Sears and a few others that have been losing ground (16 retailers account for more than 66% of the closings).
What is happening is retail is being transformed to deliver more of an entertainment experience, with adult gaming, high-end restaurants and spas. Click and collect models drive consumers to the brick and mortar store to pick up their e-commerce orders.
There are challenges, for sure. Traffic counts continue to decline as consumers shift their buying behavior to omnichannel. It is hard to drive incremental visitors to the store, but retailers like Wal-Mart have been driving more traffic with the addition of groceries, for instance.
Increased labor costs and a shortage of workers is another challenge. LeBlanc cited one new store opening where 50% of the employees who were hired failed to show on opening day, in effect "ghosting" the employer.
As with most discussions of a changing retail landscape, Amazon looms large. LeBlanc said there are more Prime members in the U.S. than those who attend church! Amazon will be the number one apparel retailer in the U.S. by next year. Amazon now boasts nine warehouses in Canada and 75 in the U.S. but struggles with 22% of top line sales going to figuring out the last mile. There is not enough capacity to get all the products ordered where they need to go. Damage and theft remain issues.
Retail must change, catering to an older population with less focus on stuff and more on entertainment and experience. This is balanced by younger shoppers seeking out entirely different retail experiences like the new Apple store on Chicago's Michigan Avenue with a "town hall" atmosphere.
Retail was massively overbuilt, according to LeBlanc and is struggling with a shrinking middle class. In fact, 40 percent of new store openings are dollar stores.
But technology is helping to bridge the gap with the addition of in-store pick up kiosks that eliminate waiting in line, for instance. Self-checkout is another technological development, but theft and fraud increase 30% with self-checkout and does not replace personal service.
Technology has to offer more than just transactions, it has to focus on delivering a cultural experience. Initiatives from high-end interactive sales tools all the way to discount consignment and vintage clothing and furniture stores are all helping target key demographics to keep retail alive.
While growth of on-line sales may be unstoppable, retail is not going quietly into the night.
PAC TO THE FUTURE II is a two-day event hosted by PAC, the Canadian Packaging Consortium. For more information, click here.