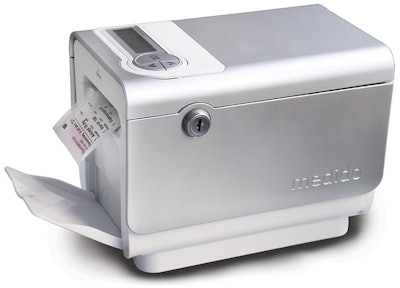 From Feb. 10 to 12, Pharmapack 2016 focused on key pharmaceutical trends, focusing on drug delivery and packaging. Track-and-trace technologies, serialization, tamper evidence and verification were among the main topics.
Manufacturers must equip products with a tampering verification feature by 2019 to comply with the EU Falsified Medicines Directive. European Standard 16679 is providing much-needed guidance.
The fight against counterfeit medicines continued with the release of a plan by the European Medicines Agency (EMA) and the European Commission (EC) as part of the EU Falsified Medicines Directive (FMD). The regulation stipulates that manufacturers must include a unique identifier (a two-dimensional barcode) and an anti-tampering device on most prescription medicines within three years, by February 9, 2019.
While serialization has taken much of the spotlight in recent years, tamper-proofing measures cannot be overlooked. A tamper verification device, required by the FMD, allows people to verify if the outer package has been manipulated. But the directive does not give specific guidance for tamper verification.
At present, no document tells companies how to define their tamper-proofing feature and verify that it works. Without regulatory specifications, how will manufacturers ensure they comply?
The answer lies in European Standard EN 16679, "Tamper Verification Features for Medicinal Product Packaging." Dieter Mößner, Technical Services Manager at Carl Edelmann GmbH and Chairman of the Packaging Standards Committee NAVp at the German Institute for Standardization, DIN, explained that the concise 18-page standard provides guidance for the application of tamper verification features that protect products to the point of dispense.
When regulators ask companies how they are complying with the vague, top-level requirement, companies following the standard will able to state that they comply with EN 16679, similar to the way companies cite EN 15823 for Braille regulations. Mößner noted that this is a voluntary standard, but that it becomes the de facto standard because nothing else exists to define these requirements.
Though some new standards are met with concern, EN 16679 is a helpful guideline. Companies will have to meet tamper-proofing requirements anyway, so this helps to define and standardize practices while letting manufacturers choose what works for them. Ultimately, EN 16679 is a standard that works in any country that will help to reduce costs and complexity.
As other countries outside the EU, including the United Arab Emirates, are considering adding similar safety regulations along with existing serialization laws, Mößner explained that it's logical for the EU standard to become an international standard.
Packaging for emerging markets
Financial potential in developing countries is huge, but there are challenges to overcome. Doing your homework means going outside the box and into the field.
Despite costly R&D activities upfront, interest in entering emerging markets continues to be driven by the growth of populations and unmet pharmaceutical needs. There are, of course, additional complexities to consider including vastly differing economic and political conditions between countries, and (possibly frequent) variation within the countries themselves.
Paul Draper, Sector Manager at DCA Design International, explained that while there may be hurdles that you don't encounter in existing markets, the following steps—focusing on stakeholders and field research—could increase your chances of success around the globe.
1. Get a feel for the system and purchasers.
To ensure products are appropriately designed for your target markets, you have to understand the stakeholders, their influence, and the local system in order to produce stakeholder-informed design (as opposed to standard user-led design).
As Draper noted, "The end user will never see a product if the regulators' and payers' needs aren't met."
2. Once you've mapped the stakeholders, plan and perform field research on behavior.
Going off the beaten path will help you design packaging that works in the real world. Lisa Maree Baker, Senior Human Factors Researcher at DCA Design International, met a Kenyan pharmacist during a research trip and her observations illustrate some of the differences in purchasing and distribution practices, including:
• The pharmacist makes personal choices in what he stocks—if he doesn't feel it meets his or the customers' needs, he won't buy it.
• Drugs are separated into more affordable single-use doses by cutting sheets of blisters. Clearly there are not enough sets of instructions to accommodate this practice.
• There is a fear of counterfeit drugs in emerging markets, so he has a preference for branded medicines.
3. Generate personas (fictional characters) for purchasers and users, and develop a list of their behavior patterns.
This may mean creating a set of personas for each different socioeconomic background or function in the supply chain (e.g. distributor, general practitioner, end user, pharmacist). Visualizing the stakeholders is helpful in resolving conflicting needs and distilling requirements and user goals into a clear picture. One set of people may be more inclined toward homeopathic treatments or more concerned with environmental issues, while "…John the sportsman tackles everything head on and takes aspirin straight away," said Baker. "Brainstorming and creating identifiable personas is a good way for the design team to capture the different solutions for different people." Additionally, consider that you may need to design packaging appropriate for local manufacturing.
Packaging design decisions should be tailored to the needs of your market and not driven by manufacturing cost alone. Though distribution systems may be different in emerging markets, the need for high integrity pharmaceuticals and medical devices is the same. "Remember corporate responsibility," Draper said. "At the end of the day, we're addressing the needs of healthcare patients worldwide."
Patient-friendly packaging
The traditional pharmaceutical model had three main boxes to tick: safety, efficacy, and quality. A company would discover a molecule that does something, put it through a long process, and put it in a box. The molecule, the data, and the FDA were at the forefront of everyone's mind… and the user (and their experience) was an afterthought.
"I can't think of other products where the user doesn't have a choice," said Phill Marley, Chairman at the Healthcare Compliance Packaging Council (HCPC) Europe. Users research shoes and cars, read reviews from peers. But for pharma products, there is little the user can do before purchasing.
"Why don't we change it? Ask the patient what they want?" asked Marley. If the experience of taking medicines can't be made pleasurable, he hopes companies at least make it neutral. Designing packaging for patients with patients means letting them provide feedback, even marking up the packaging.
He urged pharma companies to consider the patient journey, where a diagnosis may give way to shock and depression before acceptance. Marley said, "Packaging is often the only thing that connects patients once they've left the healthcare facility." It's crucial to make adherence as easy as possible during the beginning stages.
Marley noted that after three or four months, adherence may be as low as 20 to 30%, even for serious conditions like cancers. But adherence leads to better patient outcomes, which equate to sales. "[Doctors, patients, companies] all want the same thing. It's about doing the best we can with packaging."
Pharmapack 2017 is scheduled for Feb. 1 to 2, also at the Paris Expo Porte de Versailles.
Companies in this article