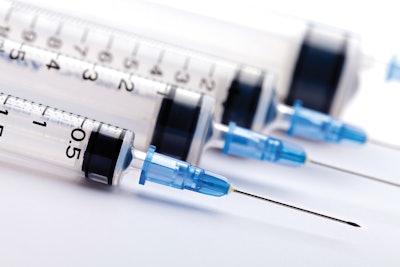 Judging by conversations held at Pharmapack Europe in Paris, France, February 11-12, new regulations for medical devices in Europe have manufacturers, consultants, and industry groups a bit on edge.
In many cases, speakers on the topic at Pharmapack Europe, said they welcomed the new regulations, but the problem was knowing exactly what those new regulations are actually going to be, and exactly when they are going to be put into effect.
"The revision of medical device directives is going to create periods of upheaval and new constraints, but it can also bring real opportunities to companies," said Joel Guillou, Consultant Regulatory Affairs and Market Access and Director, International Society for Pharmaceutical Engineering France.
Major changes will include, among other things, unannounced audits, new rules for clinical evidence, post-market clinical follow-up and—most important according to Guillou—unique device identification. As a result, "innovation will become more important," he explained.
However, when to start that innovation became a topic of debate. Although legislation has been proposed, several speakers hinted that it has become something of a political football in Europe, and as a result, it's putting manufacturers in a difficult position.
"The directives were written 20 years ago, and they have allowed the industry to develop well," noted Dario Pirovano, Senior Regulatory Advisor at Eucomed. "But it's clear that modifications were needed. At this point we're still not very clear about what those regulations will be in some areas. When will we have text from [governing bodies]? Some say Q3 of 2015, but I say no way. Maybe by end of 2015?"
But it's not so simple, as Fabian Roy, Partner at Hogan Lovells International LLP, explained.
"We'll also need a transition period [once the regulationsare implemented]," he said. "The original text said that would be three years, but currently the text has 52 clauses on the implementation. There are still a lot of issues."
He estimates it could be more like five years, and that's five years from whenever the new guidelines will go into effect.
As a result of all the uncertainty, medical device manufacturers are left in a bit of a predicament, and they are asking themselves, "Do we keep pushing innovation? Do we launch new products? Do we plan for what we think those directives will be?"
Pirovano suggests manufacturers hold tight and not make any changes. But Roy said that's not always practical.
"A lot of companies want to know if they should launch," he said. "But when you explain to investors that leglisation will change dramatically over the next three years, that doesn't go over too well."
As sort of a middle ground between the two views, Gert Bos, Head of Regulatory and Clinical Affairs, BSI, suggests to just, "do it now."
"[With the new regulations] you will need to have more well-documented clinical data, so start doing it now," he said. "It will be costly and timely, but it is the only way to survive the market."
Injectables
Also under discussion at Pharmapack were strategies for handling injectables. Better training and clear directions would go a long way, said some at the Paris event. They believe that packaging and usage need to be made simpler, while at the same time, everyone should be trained how to properly use the injectable. Maybe clear directions should be printed on the package itself. Those explicit directions are very important when the end user suddenly changes, and someone who is not trained properly needs to use the device, said Nicholas Heaton, Executive Director of Business Development at SHL Group.
His specific area of concern is emergency-use medical devices. "It must be simpler," he stressed. "Instructions must be on the device."
Even for medical professionals who dispense injectables, proper training is essential, as well as making sure they know how to explain it to end users who may have to use it on their own.
"Compact devices for injectables are important," added Ludwig Weibel, CEO Weibel CDS AG. "Patients are much more comfortable when nurses are not fumbling around."
When it comes to biosimilars, Heaton explained, there seems to be two schools of thought with injectables. "We see products that just want to get to market, but we also see companies who want to take their time and differentiate themselves and think long-term," he explained.
As the industry moves forward with biosimilar injectables, specifically, there will be, Heaton said, a heavy emphasis on proper training and patient feedback.
"In the future we will have a way to know more," Heaton said. "We can give injectors to patients and then say in three months they can come back and we will get feedback."
Veterinary drugs in the mix, too
Protecting both companion animal health and the animal protein food supply are among the reasons why the animal medicine market is growing. At Pharmapack, it was clear that packaging is on the front line.
According to David Weill, CEO of Primequal SA, packaging for veterinary pharmaceuticals can be especially challenging. It's partly because unlike in the human health sector, sometimes the end user, while qualified to give the medicine, is not a trained healthcare professional.
"Giving medicine to a cat in the kitchen is not the same as giving it to animals in a field," he explained, relaying a story of a person who had to run after an animal before even being able to give it the medicine.
Although the thought of a veterinarian or farmer chasing a cow through a field with a tube of medicine held between their teeth so as to free their hands, allowing them to wrangle said animal, may be cartoonishly funny, it is the reality of what happens many times. And under such circumstances, so many things can go so very wrong. Thus the need for innovation in this area. According to Weill, there's a race to create medical devices that more easily deliver the medication in a manner that is much more user-friendly.
Pre-filled, multiple delivery devices that are easy to use and allow no contact to the operator with the product being delivered is really the goal. "Simple, fast delivery," said Weill.
There is also a shift from big packaging to formats that are more precise and compact. This will help reduce product wastage, which he explained is a problem with animal medicine.
On-demand medical packaging
You've heard of smart phones, right? So why not smart packaging? What if you could walk into a drug store and a device similar to a 3D printer would spit out a totally customized package with your medicine?
You're probably thinking it's never going to happen. But at Pharmapack, it was described as a development that seems feasible and that could disrupt the field.
Pharmaceutical packaging's role has always been to have the correct barrier and get the product to the marketplace, while also making sure the supply chain was secure, said Peter Schmitt, Managing Director at Montesino. But soon, the focus will change.
"Instead of worrying about approvals, think about user interface," he said. "Move beyond flexible packaging, bottles, and blisters and focus on demand packaging."
Montesino said that with new technology, like 3D printers, the idea is not so far fetched.
The quest for standards
The majority of research-based pharmaceutical companies now recognize GS1, estimates Janice Kite, Traceability Director for Healthcare Global Office.
That's increased significantly since 2005 when GS1 Healthcare was established. GS1 dominates the retail consumer market with more than one million user companies charting six billion transactions a day. Scan a barcode in a clothing store? Thank GS1 for that!
Why target pharmaceutical for standards? Rising healthcare costs, a burgeoning counterfeit black market, a growing number of recalls, and patient safety are all drivers behind the push for standards.
Many counterfeiters have switched from designer handbags and shoes to pharmaceuticals, oddly enough because penalties are harsher for copying retail consumer goods than medicines.
Recalls are laborious and often a manual process.
According to Kite, who spoke at Pharmapack Europe, one in 10 inpatient episodes in the hospital will result in some kind of error, from the most minor to death.
Recently, the World Health Organization's Vaccine Presentation and packaging Group recommended GS1 barcodes on a vaccine project in Tanzania, citing GS1 standards can be used to improve the cold chain.
But Kite stressed there is still standards work to be done, especially in the area of sharing. Three types of data need to be shared for pharmaceuticals and medical devices. Master data, serial numbers, lot numbers, and expiry dates are the most basic, where we make sure we are comparing "apples to apples." Transactional data is next, including purchasing, shipping, payments, etc.
Finally, event data is shared utilizing EPCIS or Electronic Product Code Information Service. This helps with:
• Tracking—where are my objects?
• Tracing—Where have they been in the past?
• Chain of Custody—which parties had custody? And when?
• What objects are the subject of the event?
• Where did the event take place?
• Why did this event take place?
• Has the lot expired? Was it recalled? Destroyed?
There are, says Kite, a couple more years of work to do to decide how to share all this event data.
A centralized model would provide one EPCIS repository that would manage data authentication, authorization, and access control for all data and all parties. Highly unlikely, says Kite, with all the different countries and ministries of health involved.
A distributed model would include each supply chain party storing its own EPCIS event data in its own repository.
A middle ground, or semi-centralized model might be the best compromise, particularly when looking at pharmacies where each having its own database is just not practical.
Jim Chrzan is Publisher of PMMI Media Group's Healthcare Packaging and Automation World magazines. Michelle Maskaly is Editorial Director of Healthcare Packaging.