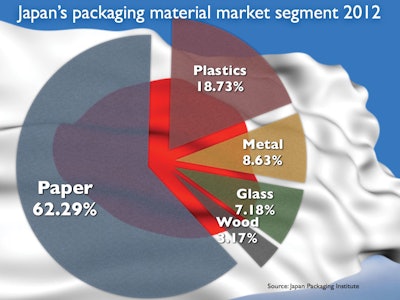 The packaging sector in Japan, the world's third largest economy, has yet to recover completely from the Great Eastern Japan Earthquake and Tsunami (or Tohoku), which devastated the east coast March 11, 2011. It wiped out entire towns with the loss of more than 15,880 lives and severely disrupted industrial production.
According to recently released data from Japan Packaging Institute and the Japan PET Bottle Recycling Association, the country's packaging industry saw a 2012 decline in both packaging volumes and values for the second consecutive year.
However, the dismal figures reported are partly a reflection of Japan's Fiscal Year (FY), which confusingly runs from April 2012 to March 2013. This encompasses the long recovery period in which industry, and the nation as a whole, has had to cope with the near collapse of the entire supply chain in the aftermath.
During the earthquake, a fire at the 220,000 barrel-per-day Chiba petrochemical facility knocked out a significant amount of fuel production. Four ethylene centres representing about 40 per cent of domestic production were shut: Mitsubishi's two crackers at Kashima with 375,000 tonnes and 453,000 tonnes annual capacity, Maruzen's Chiba plant with 453,000 tonnes annual capacity, and JX Nippon Oil & Energy's Kawasaki Plant with 443,000 tonnes per year capacity—all ceased production. The Kashima complex was one of the hardest hit. In addition to the crackers, plants producing propylene, polyethylene (PE), polypropylene (PP), caustic soda, and chlorine were also damaged in the quake, and production ceased.
Some facilities took more than a year to restart. Maruzen's Chiba Plant, for example, only restarted in June 2012. The Maruzen plant produces methyl ethyl ketone (MEK), a solvent used in printing inks and coatings and in vinyl films, too. It's also a component in adhesive hot-melt. As a result, all of Japan's hot-melt glue production capacity was lost.
The massive collapse in production capacity did not take long to affect the general population. "The problem was that there was plenty of food throughout the country, but there were no packaging or logistics centres to deliver the food. This had an impact throughout the country, not just in the immediate north east coastal area," says Mitsuhiro Sumimoto, President of Sumimoto Packaging Consultancy and a member of the Japanese Institute of Professional Engineers. "OPP film was in extremely short supply. OPP is most commonly used in packaging fermented soya bean, known as natto, a staple in the typical Tokyo breakfast diet. The shortages resulted in natto rationing of one pack per person."
Acute shortages of basic materials like PP meant that there were no PP-PE caps for bottles, and when it could be found, the absence of masterbatch colourants forced brand owners to abandon product differentiation branding elements and use generic white caps.
Within three months, much of Japanese industry was back to normal production levels, but with many differences. Packaging producers like Dai Nippon and Toppan were large enough to redistribute production across other plants to maintain capacity, though many smaller companies along the coastal region were lost completely.
Today, most upstream plants are back on stream and running at near full capacity. Power cuts are no longer a feature of daily life, but the packaging sector continues to struggle to pick up the slack. Despite the recovery efforts, all packaging sectors (paper, glass, plastic, metal, wood etc.) show a decline, with the total volume of packaging containers and materials shipped in FY2012 down by 456,000 tons, from 18.83 million tons in FY2011 to 18.37 million tons.
Paper continues to dominate
Proportionally, paper still holds its spot as the largest packaging material segment at 62.29 per cent of all materials used (Figure 1). Plastic holds its own with 18.73 percent, metal and glass each hover around the 7-8 percent volumes, with wood packaging continuing to hang in there with just 3.17 percent.
Though paper remains the preferred packaging material, it has seen a decline in paper containers shipped from 11.74 million tons in 2011 down to 11.42 million tons, a drop of 314,000 tons. Plastic fared slightly better, losing just 64,000 tons.
In terms of value, this represented a drop of ¥124.1 billion from ¥5,769.4 billion to ¥5645.3 billion, with the losses being more-or-less evenly spread across all material segments with no particular segment suffering significantly.
Plastic's downward trend in japan
After three years of enjoying ever increasing values, from 2006-08, during which the total value of Japan's plastic packaging industry rose rapidly from ¥17.44 billion to ¥19.77 billion, shipment values began to slide noticeably year-on-year dropping to a point in 2012 where values were on a continuous downward trajectory for FY2012 and stand well below the 2006 values at just ¥16.26 billion (Figure 2).
The reasons behind the falling plastic values are a complex mix of the following:
• the ongoing global economic crisis that started in 2008 and continues to have a negative impact today
• the 2011 earthquake that decimated much of Japan's resin production capability
• the full implementation, in 2009, of Japan's Containers and Packaging Recycling Law, which imposes a Recycling Fee on plastic ex-factory packaging shipments on a per kilo per material basis.
In FY 2012 the plastic Recycling Fee was ¥40 /kg; in comparison the Recycling Fees for alternate materials were much lower (Figure 3).
These fees are adjusted annually, the variation in the fees payable reflecting the percentages successfully recovered and actively recycled in the previous year: the higher the volume collected and recycled the lower next year's fee.
In Japan the legal definition of recycled product is "something that has undergone a process to become something else"—stacking it in bales on a dock waiting to attempt to ship it to China is not an acceptable interpretation of the word by Japanese standards!
PET on the rise
In Japan PET is classified differently than general plastic. It's pegged at ¥3.4/kg, while other plastic materials (LDPE, PP, composites, etc.) attract fees of ¥40/kg. This is because PET has a separate waste recovery stream.
Consumers are obliged by law to return PET containers to their local retailer. Additionally, industry agreements decree that only clear PET can enter the market, thus driving the volume of material recovered and recycled up to the 82 percent mark.
PET enjoys extremely high recovery and recycling rates and can be easily ground back into feedstock. Mixed plastic has a good recovery rate, too, due to selective sorting by householders. But since the energy required to recycle mixed plastic and laminates to recover value is regarded as a waste of resources, general plastics are incinerated and the value extracted in Japan's Waste to Energy programme.
The Recycling Fees have led to massive migration from heavy HDPE to lighter weight flexible packages to reduce the fees due. More to the point, it has driven a significant number of products towards PET as a packaging format.
So while the overall trend in plastic packaging shipments has been on a rapid decline—this is not mirrored by the trend in PET (Figure 4). In 1999, before the introduction of the Containers & Packaging Recycling Law, PET shipments stood at 370,000 tons. By 2008 the volumes had increased to 603,000 tons.
A slight dip in production volumes, coinciding with the Global Economic Crisis reflected in 2009, was followed by a recovery in 2010 to 601,000 tons before the Earthquake/Tsunami drove volumes back down to 583,000 tons. However, PET has seen the strongest and fastest rebound of all packaging formats. In 2012 shipment volumes were the highest on record at 610,000 tons. Here we must keep in mind that these are not unit production volumes but the total weight shipped. As the PET sector has been aggressively light-weighting containers to the point where today's bottles are between 15 to 42 percent lighter than they were in 1999, industry has not only been shipping increased volumes, but has also massively increased the actual quantity of PET containers it has been putting on the market.
Beverage usage
As would be expected, soft drinks account for 86.88 percent of the PET market share. But alcohol now represents 2.45 percent of PET usage. Until recent years alcohol has traditionally been packed in elaborate glass bottles. This migration to PET is a growing trend for mid-price sake and whiskeys.
Cosmetics are also a relatively new product to find a use for PET—it now represents 2.33 percent of the total PET package shipments
Interestingly, shampoos and detergents have been migrating to PET, away from rigid HDPE and flexible pouches, both of which attract the ¥40/kg fee. As technology drives PET weights down and gives it similar performance characteristics to flexibles, the trend is now towards PET to reduce brand owner and converters' legal exposure to the fee-based Extended Producer Responsibility recycling regulations.
The shampoo and detergent industry used just 2,625 tons of PET packaging in 2007, and despite global economic meltdowns, earthquakes, and the Tsunamis, the current 2012 data shows a massive shift in consumption of more than 11,102 tons of PET (Figure 5).
As with previous years, Japan's packaging industry is grappling with massive internal shifts in consumer buying patterns. Who would have thought 10 years ago that detergents or even cosmetics packed in easy-to-recycle PET would have found acceptance amongst Japan's status-conscious female consumers? By the same token, the cosmetics sector is steadily taking advantage of the cheaper locally sourced pure clear recovered PET waste stream and making inroads into ramping up the use of R-PET in a range of applications that not only match consumers' high-quality expectations, but carry a powerful environmental statement. And besides, since it is already a recycled material, R-PET attracts a zero Recycling Fee.
Note: To convert Japanese value data from Yen into US$ would be a pretty meaningless exercise, since at the March 30 FY2012 cut-off date, the Yen stood against the US$ at ¥79.83. However, in December 2013, with three months to go in FY2012, Japan's Prime Minister, Shinzo Abe, launched an economic recovery programme, known as Abenomics, which (among other objectives) drove down the exchange rate dramatically.
At the time of writing the exchange rate stands at ¥98.97 to the US$, and by the time this is published it will most likely have fallen even further.
So the drop in packaging shipment values over the period could be US$1.55 billion or possibly just US$1.25 billion depending on when you choose to convert. So let's not bother converting, accept the Yen-Dollar exchange rate as a moving target, and stick with Yen since, with negligible packaging imports, the internal value of domestically produced packaging is relatively unaffected by the volatilities of the currency exchange markets.
Stuart Hoggard (stuart.hoggard@packwebasia) is publisher of www.PackWebasia.com, the daily news website for the Asian packaging supply chain. He consults widely with industry in the region and is the author of several reports on the Asian packaging markets. http://packwebasia.com/bookstore. Hoggard is also President of the International Packaging Press Organisation.