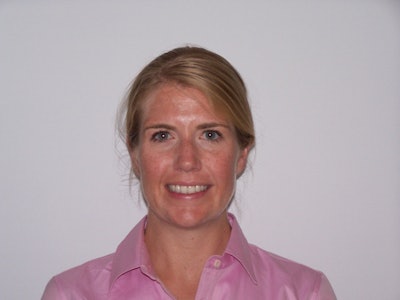 Meghan Stasz is the director of Sustainability for the Grocery Manufacturers Association (GMA), a U.S. association that promotes and represents the world's food, beverage, and consumer products companies. She is also a distinguished co-chair for Sustainable Packaging Symposium 2012: Advancing Sustainable Supply Chains with Optimized Packaging, organized by Greener Package and the American Institute of Chemical Engineers' (AIChE) Institute for Sustainability, and scheduled for April 3-5 in Houston. One of the topics receiving considerable coverage at this year's event will be sustainable packaging's role in reducing food waste. In the following Q&A, Stasz provides a preview of some of the issues that will be discussed.
Packaging World:
Why has mitigating food waste become such a hot-button topic in sustainable packaging circles. Isn't the optimization of any packaging—sustainable or otherwise—the real key to mitigating food waste? Why the focus on sustainable packaging in particular?
Meghan Stasz:
You are not the first person to ask this question. What it comes down to is this overall commitment in the CPG industry to sustainability. When we think about sustainability as a whole, we are looking to minimize waste. That's both packaging waste and food waste. For the most part, we are doing that through innovation. So sustainable packaging that also prevents food waste is really a win all around, and that's where the two tie in.
Has there been a problem with some companies moving too fast with sustainable packaging and then ending up wasting more food than they had before?
Not that I know of. Packaging engineers, as I understand, really think through the whole supply chain when they are thinking about or working on a redesign of packaging. That can be anything from new inputs to lightweighting. Packaging engineers know better than anyone that the job of packaging is to protect the product. So especially in the area of food waste, a redesign that doesn't protect the product really doesn't help anyone.
Can you describe the scale of the food waste problem in the U.S.?
It is—not to put too fine a point on it—huge. That's not particularly eloquent, but it's true. There are a lot of different studies out there, from the EPA [Environmental Protection Agency], from universities around the U.S., and from The Department of Agriculture, and the numbers vary. So we don't have an exact number in terms of either how much food waste is generated in the U.S. or how much is disposed of, but we know that more than 30 million tons are being sent to landfill, which is a tremendous amount. That equates to tens of billions of pounds of food being thrown away every year, and that's just in the U.S.
The way I think about it, to put it in context, is we work closely with Feeding America, which is a network of food banks across the country. They think of 1.2 pounds of food as a meal. When we think of throwing away tens of billions of pounds every year in the U.S., that figure really helps put it all in perspective.

What are some of the causes of food waste?
They really vary. There are the obvious losses along the supply chain due to spoilage and things like that, especially with fresh or frozen foods. But there are also other causes that people don't think of right away when they think about food waste. These can be things like mislabeled packaging or mislabeled product. A lot of times what happens with mislabeled products is when they get to the retail environment or somewhere along the supply chain, they are recognized as mislabeled, and often they are thrown away. That's an opportunity for donation. That's certainly what the major food banks all across the country will tell you. These food banks are really working with both the retail and the consumer products industry to help make the process easier for the decision maker to donate that food to a food bank. The food bank can then help fix the label, make sure that it's accurate and meets all standards and requirements, and then turn that perfectly nutritious, healthy food over to their customers.

When you talk about mislabeled packaging, are you talking about things such as ingredient mislabeling?
It can be anything from ingredient mislabeling to not having something on the label that needs to be there. I am certainly not a food donation expert, but as I understand it, sometimes product comes off the line, and the label is just incorrect in some small way. Groups like Feeding America and other big networks have the capability to print out a corrected label, and they have volunteers who will put the new label right on the package. That food can then be donated rather than sent to landfill.

What percentage of food waste results from consumers throwing food away?
That's a big component of the food waste-to-landfill issue for sure. Again, because there aren't particularly hard and fast numbers available right now on food-waste disposal, we don't know exactly how much is coming from the consumer in-home section of that value chain, but we do know that it is significant.

Do you advocate composting for food waste and related packaging?
Oh yes, absolutely! Anything that we can do to lead on finding alternatives to landfill for organic materials like food waste is really beneficial to the environment. Seeing that innovation in our infrastructure and seeing more opportunities arise for that kind of beneficial alternative to landfill has been really heartening and really exciting.

Food waste is not a new problem. Why do you think it's become such a big topic lately?
That's such a great question, especially because we've been preparing and using food in our homes for such a long time. I think part of the reason is this overall commitment to sustainability. We are starting to look more closely at the different aspects of sustainability, and food waste is certainly one part of that. I think it is also because new infrastructure opportunities are really growing and improving in the U.S. Certainly in parts of the U.S., there are a lot of alternatives. So instead of disposing of your food to landfills, now new things are possible for waste. That has renewed the conversation. Then probably another reason is that the level of understanding about the impacts of food waste and how much waste there is has increased dramatically.

What are some of the social, environmental, and economic impacts of food waste?
Feeding America has put out a statistic that one in six Americans is food insecure, which is a tremendously high number. So there is this wonderful opportunity for us to feed the hungry in the U.S.
From an environmental perspective, food waste in a landfill creates methane gas, which is a very potent greenhouse gas—more potent than carbon dioxide. Mitigating that greenhouse gas helps us on the climate-change front.
In terms of economic impact, there are tremendous efficiency gains that can be made by taking a hard look at our supply chains and seeing if we can find value in what we previously thought of as waste.

There seems to be an overwhelming perception by consumers that food packaging is wasteful. What can we do to change that perception?
Consumers, as we all know, interact with packaging in a very intense, personal way. They use it every day; it's something they think about a lot. As I said before, packaging is there to protect the product, so helping consumers understand its role and also telling the story of all that our industry is doing to make our packaging more sustainable will really help change that perception.
Sharing stories of packaging innovation and redesign and the reasoning and the technology behind these initiatives is really powerful and really impactful to consumers. Because consumers do care.

How can CPGs balance creating more sustainable packaging while at the same time providing optimum food protection?
Again, it comes back to this overall industry commitment to sustainability and to providing a quality product that will reach consumers. Whenever CPGs think about redesigning or designing packaging, they must factor in the whole supply chain. So there is this balance between having that quality product reach the consumer effectively and making sure that the packaging is as sustainable and optimized as possible.

What are some of the technical optimizations in sustainable packaging that can help reduce food waste?
I don't have any specific examples right now, but I can tell you that these exact kinds of emerging solutions and new technologies are a big part of the food waste initiative that the GMA has launched with the FMI [Food Marketing Institute]. We actually will be coming out with a list of best practices and new technologies soon, but I don't have any right now that I can give you.

Can you tell me more about the food waste initiative?
The Food Waste Opportunities and Challenges Initiative is a cross-industry initiative launched by GMA and FMI in June of 2011. It's a three-year project. We pulled in representatives from across the value chain, recognizing that food waste happens at many places along the supply chain—as food moves, so does food waste. We brought in representatives from the manufacturing, retail grocery, restaurant, quick-serve, and foodservice industries. We also brought in knowledge partners like Waste Management and Feeding America that really understand what happens to food and food waste at the end of the retail chain.
That leadership group identified two overall goals for the project. These goals are very simple and straightforward: To send less food waste to landfill, and to send more food to food banks. The way we will do that is through four distinct deliverables. The first is an assessment; so understanding the sources and causes of food waste. As I said earlier, right now there are a lot of estimates and extrapolations from various sources, and we think we will be able to really add to the available data. We are doing both a high-level assessment on the sources and causes of food waste across the U.S., and then also a deeper dive, a more quantitative assessment, using data from our industry, the retail grocery industry, and restaurants.
The second piece is the emerging solutions and best practices deliverable. We will be looking at the new technologies and emerging solutions that are being piloted, used, or coming on the horizon that can help us move the needle on either diverting food waste from landfill to beneficial alternatives or reducing food waste in the first place through packaging innovations and the like.
The third deliverable is around policy, so what are the policy options that the private sector can support that will help potentially remove some of the barriers to either increasing donations or sending food waste to alternatives other than landfills.
Then finally there is the communications piece—reaching out to stakeholders, engaging with groups like the EPA, recruiting new members or new industries, and coordinating with the many other trade associations, industry groups, and coalitions that are working on this issue to make sure we are collaborating and not reinventing the wheel.
It's a very exciting project, and GMA and FMI are really excited to be able to staff it and lead it on behalf of both of our members. Obviously, it's an issue that's really important to our membership, and it's of particular interest to our board because food waste and packaging waste are important issues for our industry. So it's a really exciting project to be working on for sure.

Registration is open for Sustainable Packaging Symposium 2012: Advancing Sustainable Supply Chains with Optimized Packaging, which will be held at the Hilton Americas, in Houston, TX. Other conference topics will include "Leadership and the Sustainable Supply Chain," "Key Attributes that Define a Sustainable Package," and "Sustainability ROI: Optimizing Packaging Inputs," among others.