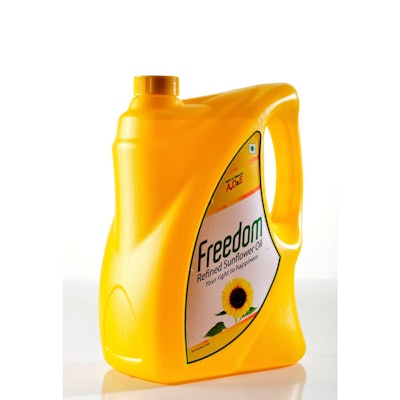 Packaging is receiving more emphasis, and Gemini Edibles & Fats India Private Ltd. (GEF India) is one company reflecting this trend with a distinctive 5-liter, HDPE container for its Freedom Refined Sunflower Oil.
The Hyderabad, India-based company has created a custom container for the brand that is notable for both its shape and its striking colors. The package, designed by Tata Elxsi, supports the brand positioning "Your Right to Happiness," and its profile rises from the bottom of the container to the handle, culminating with a series of waves at the neck.
To follow the happiness theme, the package uses a combination of yellow and radiant orange to accentuate the design details. The label is an offset-printed sticker.
"The container is a single-wall, blow-molded bottle," says Shyam Sunder, corporate manager, Tata Elxsi. "The color is custom-developed for Freedom oil and called 'lemon orange.' The bright hue has been developed to indicate the freshness of the product and to reflect the brand attributes—liveliness and youthfulness. The base color is yellow because it flags off the sunflower category."
Chandra Shekhara Reddy, general manager, sales and marketing at GEF India, explains that such a robust package was needed to attract consumers in India, where the purchasing power of the middle class is rising and retail formats are proliferating, all creating competition among brands.
Reddy believes this package is an important breakthrough for edible oil in India. "Today, the majority of sales in India are still of loose oil, but by 2015 we expect the trend to completely reverse," he predicts. "The percentage of affluent customers is increasing, and we expect these consumers to prefer convenience over cost."
Companies in this article