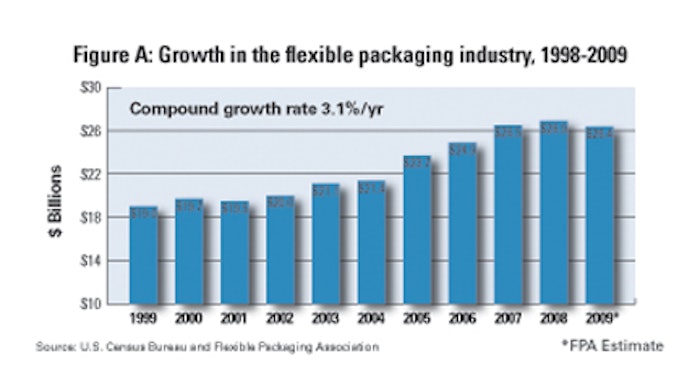 Providing a historical outlook of the flexible packaging industry, the "2010 FPA State of the Flexible Packaging Industry Report" is prepared by the Business & Economic Research Div. of the
Flexible Packaging Assn
.
Specifically, sales revenue is expected to increase 3.4% to $27.3 billion this year, up from $26.4 billion. The FPA reports that flexible packaging represents about 18% of the estimated $143 billion U.S. packaging market.
Flexible packaging employs more than 79,000 people in the U.S., according to the FPA, and includes flexible packaging products used for retail and institutional food and nonfood applications, industrial applications, shrink and stretch films, retail shopping bags, consumer storage bags, wraps, and trash bags. Flexible packaging's compound annual growth rate from 1999 to 2009 is reflected in Figure A. Looking beyond flexibles, FPA points out that corrugated represents the largest packaging segment, followed by flexible packaging, and then rigid plastics and bottles.
This year's "State of the Flexible Packaging Industry Report" is based on information provided by FPA members in the FPA 2009 "State of the Industry Survey," and by nonmembers in the "FPA Industry-Wide Converters Survey." Additional sources of information include the Census Bureau, Bureau of Economic Analysis, Foreign Trade Division, and other authoritative sources.
The report says that as a result of 10 years of industry consolidation, companies with revenue exceeding $500 million now account for about half of the flexible packaging revenue. At the same time, small and mid-sized firms' share of revenue declined from 70% in 1996 to 47% last year.
More than half of flexible packaging sales are attributable to food applications (Figure B). The nonfood category noted in the chart includes household goods, garden supplies, pet food, and cosmetics. Consumer products are made up of household paper and plastic storage and trash bags, while FPA's industrial applications include agricultural fertilizer, film cover, seed, automotive, outdoor equipment, and supplies.
FPA survey respondents were asked to identify and rank their top five flexible packaging growth segments (Figure C). Converter respondents' composite data indicated pet foods/supplies, pharmaceuticals, and health and beauty aids as their top three markets. For suppliers, refrigerated meat, stretch/shrink films, and disposable products were the top growth end-use segments, according to the survey.
The report notes that plastic resins and plastic film and sheet account for 61% of flexible packaging materials, with ink and paper both at 9%, foil at 7%, and coatings and adhesives at 4%. The "2010 State of the Flexible Packaging Industry" also reports the following details:
• Survey participants most frequently used polyethylene film (42%), followed by polypropylene (36%), and polyester (16%).
• Rollstock, at 61%, represented the greatest dollar value among structures sold by FPA survey participants, followed by bags (17%), and stretch films (7%).
• Unprinted packaging and materials accounted for 27% of flexible packaging sales.For printed materials, flexographic printing was employed by 63% of respondents, and gravure by 9%.
Imports and exports
FPA's report provides a "top 20" ranking of countries that provide imported flexible packaging to the U.S., and countries that receive exports from the U.S.
On the import side, China, Canada, and Mexico were the top three importers of plastic, laminated, and coated bags. For metal, foil, and leaf materials, China, Canada, and Germany ranked first, second, and third, respectively. For uncoated paper and multiwall bags, Canada, Mexico, and China topped the list.
Meanwhile, Canada, Mexico, and Japan were the top exporters of plastic, laminated, and coated bags. Canada, Mexico, and the U.K. led the way in the export of metal, foil, and leaf materials, while Canada, Mexico, and Columbia exported the most uncoated paper and multiwall bags to the U.S.
For more information about the 2010 FPA State of the Flexible Packaging Industry Report, and the FPA Business and Economic Research Program, contact FPA at 410/694-0800, or visit www.flexpack.org.
Companies in this article