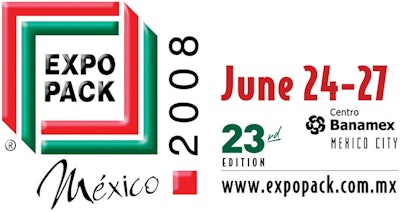 The largest, most comprehensive packaging event serving Latin America is open for business June 24-27, when ExpoPack Mexico returns to Mexico City's Centro Banamex. Produced by the Packaging Machinery Manufacturers Institute (www.pmmi.org), the show once again is co-located with Procesa, the food and beverage processing machinery and equipment show.
ExpoPack Mexico in 2007 showed 17% growth in exhibit space and 15.7% growth in exhibiting companies compared to 2006. More than 32,000 qualified attendees and exhibitor personnel were in attendance at the 2007 four-day event. More than 38% of attendees were CEOs and key decision makers, says PMMI.
The combined ExpoPack Mexico and Procesa were an impressive international event, with 12 pavilions sponsored by the world's leading packaging trade associations and institutions from Argentina, Chile, China, Colombia, France, Germany, Spain, Italy, the U.S., and Taiwan. The PMMI pavilion was the largest in the 2007 show, featuring 55 members and occupying more than 17,000 net sq ft of exhibition space. Many PMMI members attending the show took advantage of the free services offered in the pavilion, including Internet access, complimentary refreshment, and matchmaking assistance.
A conference program for the 2008 event is organized by the Mexican Packaging Association (AMEE). Exhibit hours for the four-day event are 1 p.m. to 8 p.m. Tuesday through Thursday and 1 p.m. to 7 p.m. on Friday.
For more information, including exhibit listings and online registration, please visit www.expopack.com.mx.
Companies in this article