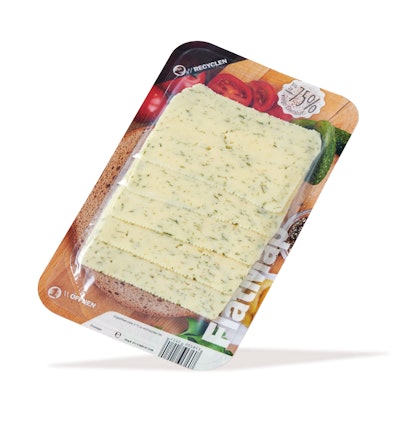 It allows the products to be placed on a flat cardboard carrier made from bleached or unbleached fiber.
The carrier is coated with a thin protective layer, which provides stability, as well as a reliable barrier against fat, moisture and oxygen. The products are securely sealed under modified atmosphere by means of a thin lidding film, hence prolonging their shelf life. Both the protective layer and lidding film are polyolefin-based, making them fully recyclable. Consumer-friendly opening of the pack is ensured by an easy-to-grip peel tab. Due to the perfectly flat design of the pack, an entirely new level of reclosability can be achieved. This ensures optimal freshness until the very last slice and enables first-class storage in the consumer's refrigerator without the need for re-packing.
FlatMap provides opportunities with regard to branding and product information. The cardboard carrier can be printed in high quality on both sides, therefore offering plenty of space for product explanations, brand image and consumer communication.
The FlatMap system was developed by Sealpac in close cooperation with established partners Van Genechten Packaging (cardboard) and Buergofol (layer and lidding film).
Companies in this article